Kenya teachers end school strike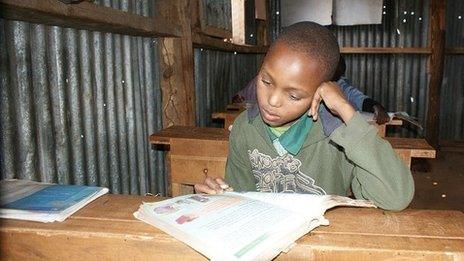 Teachers in Kenya have called off a nationwide strike, shortly after the government announced the indefinite closure of primary schools.
The Kenya National Union of Teachers took the decision following talks with Deputy President William Ruto.
Some 240,000 primary and secondary school teachers had been striking for more than three weeks for higher pay.
It was the biggest crisis President Uhuru Kenyatta's government had faced since it won elections in March.
The union seemed to have bowed to government pressure, ending the strike without securing major concessions, reports the BBC's Caroline Karobia from the capital, Nairobi.
Mr Ruto told union leaders that the government was working on a "very tight budget", and could not meet their demand for better travel allowances, Kenya's Standard newspaper reports.
National Union of Teachers chairman Wilson Sossion said they had called off the strike because "this is our country and we must work together and get things moving".
Earlier on Wednesday, Education Secretary Jacob Kaimenyi denounced the strike as unconstitutional and said primary schools would close indefinitely.
The Kenya Primary School Heads Association (KEPSHA) then called on the government and trade unions to seek a solution for the sake of schoolchildren.
"The children who are facing exams this year, lost some time last year during another strike, they lost another 10 days during elections and now they have missed out on four weeks. That is a problem we cannot wish away," its chairman Joseph Karuga said.
"These children are the people whose future we are talking about and if we continue interfering with it, the cost will be enormous."
On Monday, Mr Kaimenyi said teachers who did not resume work the next day "would have sacked themselves" following a court ruling that the strike was illegal.
Teachers were demanding increased travel, housing and medical allowances; they also wanted the government to abide by a 1997 agreement, which calls for a 500% pay increase.
The deal would have cost the government $540m (£362m) in increased allowances for teachers and a further $175m to hire new teachers.
The government said it could not afford to meet the demands.
Last week, the Secretary General of the Kenya National Association of Parents, Musau Ndunda, accused the government of "playing politics" and not being keen to resolve the strike.
Related Internet Links
The BBC is not responsible for the content of external sites.