South Africa grapples with dilemma of pregnant students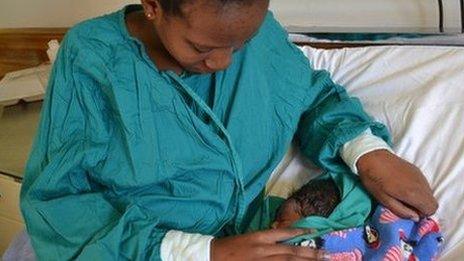 A recent Constitutional Court ruling in South Africa has confirmed that schools cannot expel students for becoming pregnant, but the BBC's Pumza Fihlani reports that the country is still struggling to cope with the issue, which affects some 180,000 girls each year.
Shrill wails fill the maternity ward of Durban's King Dinuzulu public hospital.
One scream, followed by another, then another - a disturbing chorus of tormented cries and laboured breathing. Three teenagers are about to give birth.
The youngest girl in the ward is 14 years old. Overwhelmed by labour pains, she struggles to even speak.
In the next room Phumla Tshabalala, 16, is holding her tiny baby, a one-day-old girl.
Phumla is a first-time mother and says she is worried about the possibility of being a single parent.
"I haven't seen my boyfriend for a long time and he hasn't even been here to see me and the baby," she says anxiously.
"I told him that I've given birth but no-one from his family has come. I'm not even sure if he told his parents about the baby."
She is from a modest home, her father is the sole breadwinner. She is the youngest of three daughters and the first to have a child - something her mother and father are struggling to come to terms with.
"My parents are disappointed in me - they worked hard to educate me and they say I've thrown all of their hard work away. I hope that they can forgive me one day," she says.
Phumla plans to return to school in time for the end-of-year tests, but is worried about how she will juggle being a student and a mother.
She tells me that in retrospect, she wishes she had waited until she was older. But she and her baby are both healthy so she considers herself lucky.
There is a real risk in giving birth at a young age, doctors say.
The mortality rate is much higher for teenage mothers - they account for 36% of maternal deaths every year, despite only accounting for 8% of births, according to the Human Sciences Research Council.
"Their pelvises are not yet developed and in many case they struggle to deliver naturally because their pelvises are still small," says Dr Jay-Anne Devjee, head of the Obstetrics and Gynaecology ward at King Dinuzulu hospital.
"We are often forced to deliver the babies via Caesarean section, which increases the risks of haemorrhaging and puts their lives at risk."
In another hospital room, a new mother is battling with hypertension.
She has been hooked on an intravenous drip for several days. She is on medication to stabilise her blood pressure - but this is not an elderly woman, she is just 19.
The doctors tell me that if she had not received treatment when she did, it could have been fatal.
Many young mothers are forced to leave school in order to take care of their children and many of them never return, studies suggest.
In Intshisekelo High School outside Durban, more than 20 schoolgirls became pregnant in just the first half of the school year, officials say.
One teacher said that pregnancy is one of the main reasons, along with poverty, why only about half of all students finish their schooling.
By law, the school authorities cannot reveal which students are pregnant and say some girls go to great lengths to hide their protruding bellies, including wearing oversized tops and always carrying their rucksacks at the front.
The South African Schools Act of 1996 says students cannot be expelled because they are pregnant, but schools say they are forced to do so because they are not trained how to provide support to expectant mothers.
"Teachers are confronted with situations where learners are stigmatised by other students, where the pregnant pupil becomes emotionally ostracised and your call of duty now extends to that of being a nurse, a social worker. It places pressure on teachers, not to mention the workload," says Mugwena Maluleke, spokesperson for the South African Democratic Teachers Union.
Inside the classroom, students say they are sometimes ridiculed by their teachers for becoming pregnant.
"You just become an outcast. Sometimes you are labelled as a loose girl and everyone makes fun of you," says a girl whose friend and schoolmate became pregnant at 17. She refused to give her name.
Local education chief Senzo Mchunu says he is extremely worried about the high levels of teenage pregnancy in KwaZulu-Natal Province, which includes Durban.
"In many instances a girl's future is destroyed, she has no hope of ever returning to school," he says.
While the official line is that no pupil should be denied an education, regardless of the circumstances, provincial governments and school governing bodies have the prerogative to decide what to do with pregnant teenagers.
And so it is not uncommon to hear of schools, especially in rural areas, where students are expelled as soon as the school becomes aware of their pregnancy.
Few bother to go to court because many are not aware of their rights and they also have other things to worry about, such as how to feed their children.
For years government departments have been going back and forth about who has responsibility for this issue.
Is it a health problem, a social problem or simply a problem for the education department?
There are still no clear answers but these departments in KwaZulu-Natal have begun working together in a bid to get a handle on the problem.
They have been holding awareness campaigns across the province about the risks of teenage pregnancy and HIV/Aids.
Some three million people are HIV-positive in KwaZulu-Natal - more than in any other part of South Africa, the country with the highest number of people living with the Aids virus in the world.
Many pregnant teenagers admit to regularly having unprotected sex, sometimes with multiple partners, officials say.
These "reckless sexual activities" could undermine the strides made in the fight against Aids, they say.
"We are faced with a problem that is threatening to take on monstrous proportions and we cannot sit back and do nothing. We are doing everything we can to encourage our young people to be responsible," says Mr Mchunu.
Related Internet Links
The BBC is not responsible for the content of external sites.