Zimbabwe media landscape to open up?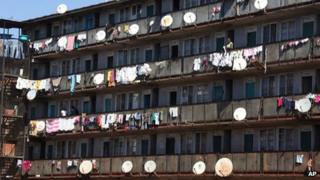 It is an intriguing twist in an already dramatic and fractious pre-election campaign in Zimbabwe.
As Zimbabweans prepare to decide whether to grant President Robert Mugabe another term in office at the end of this month, a brand new television channel has just been unveiled - after weeks of rushed and secretive preparations - promising to offer viewers "quality, independent information" in sharp contrast to the "biased reporting of the state media".
1st TV will be beamed into Zimbabwe from abroad by satellite - and is hoping to reach "3 million viewers plus", or roughly a quarter of the population.
The source of the station's funding is, for now, a secret.
"The majority of our investors are private," said executive producer Andrew Chadwick, a former communications director for Zimbabwe's Prime Minister Morgan Tsvangirai.
"We've also received support from groups supporting human rights, freedom and democracy.
"But none of them want to be named because of the vindictive nature of some of the authorities within Zimbabwe."
Mr Chadwick insisted that 1st TV was not looking to swing the election towards Mr Tsvangirai's Movement for Democratic Change party.
"That's not our job. We plan to provide Zimbabweans with independent information to allow them to make decisions," he said.
"It can only have a positive effect in a country where all electronic broadcast media are effectively controlled by one party.
"Why do we have a country that's been independent for 33 years but has no independent television?" asked Mr Chadwick.
'It is hostile'
The state media, including television channel ZBC, are openly loyal to Mr Mugabe and his Zanu-PF party.
For years the president has consistently avoided implementing agreed media reforms and other changes widely seen as essential to holding free and fair elections.
There is growing international concern about the upcoming elections, with human rights groups warning of a crackdown on activists, and new allegations that the electoral roll has been tampered with on a massive scale in order to exclude millions of young and urban voters considered likely to vote against Mr Mugabe.
The new station will be based in Johannesburg, South Africa, and will rely on agencies, freelancers and other contributors to supply news.
"We're not doing anything illegal," said Mr Chadwick. "We will be approaching Zanu-PF to ask them to participate in our editorial programmes and for advertising."
But reached by telephone in Harare, Zanu-PF spokesman Rugare Gumbo said his party would have nothing to do with the new station.
"We don't welcome it. It's hostile. We only deal with information that emanates from Zimbabwe. They are welcome to come and register in Zimbabwe and follow the normal procedures," said Mr Gumbo.
1st TV is scrambling to meet its target of starting to broadcast at 18:00 local time (16:00 GMT) this Friday.
It will be carried on a free-to-air satellite platform and will include South African soap operas, comedy and discussion programmes, as well as contributions from the growing number of Zimbabweans with access to mobile phones and the internet.