Uhuru Kenyatta: ICC trial witnesses withdraw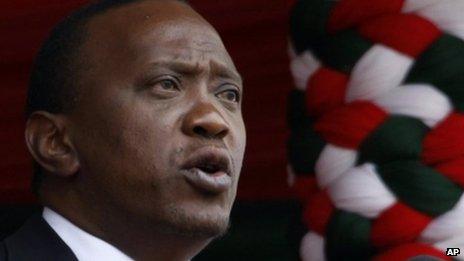 Two witnesses due to testify in Kenyan President Uhuru Kenyatta's trial have withdrawn over security concerns, the International Criminal Court has said.
A third witness's evidence is no longer considered necessary and has been dropped by the prosecution.
The ICC's chief prosecutor has previously accused Kenya's government of not protecting witnesses.
Mr Kenyatta is accused of orchestrating deadly violence after the 2007 election, an allegation he denies.
In March this year he was elected president and his trial at The Hague is due to start on 12 November.
Some 1,000 people were killed and 600,000 people fled their homes during the violence which following the December 2007 poll.
Shortly after Mr Kenyatta was elected, the ICC dropped charges against one of his co-accused, Francis Muthaura, because some witnesses were too scared to testify and another had recanted his statement.
The prosecution say they still plan to call 30 witnesses but the BBC's Anna Holligan at The Hague says that with each new withdrawal, the case against Mr Kenyatta is being further jeopardized.
In a redacted document dated 16 July 2013, chief prosecutor Fatou Bensouda said two witnesses identified as Witness 5 and Witness 426 were withdrawing over security concerns.
Witness 5 said he felt that circumstances, which were not revealed, had created "insurmountable security risks" for himself.
Discussions had been held with Witness 426 to "determine whether any measures could be taken to mitigate his concerns and secure his attendance at trial", Ms Bensouda said.
"These talks were unsuccessful and Witness 426 maintained that he was not willing to testify," her statement said.
ICC spokesperson Fadi El Abdallah told the BBC: "The prosecutor might seek to add other witnesses in the future if suitable replacements for these witnesses are forthcoming."
Mr Kenyatta's deputy, Vice-President William Ruto, is facing similar charges at the ICC. His trial is expected to begin on 10 September.
They were on opposite sides of the 2007 election but formed an alliance for March's election and analysts say the ICC prosecutions bolstered their campaign as they presented it as foreign interference in Kenya's domestic affairs.
The African Union has been pressuring the ICC to drop the charges against Mr Kenyatta and his deputy, saying it was being racist in only prosecuting cases from Africa.
Of six people originally charged in connection with Kenya's poll violence, trials are only going ahead for three people - Mr Kenyatta, Mr Ruto and the deputy president's co-accused, broadcaster Joshua arap Sang.
The ICC has refused to drop the charges and says it pursues justice impartially.
Related Internet Links
The BBC is not responsible for the content of external sites.