Chris Froome hopes to inspire Africans after Tour win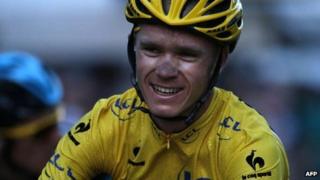 Kenyan-born UK cyclist Chris Froome says he hopes his victory in the Tour de France will inspire young Africans.
Froome won the 100th edition of the world's premier cycling tournament on Sunday, racing under the UK banner.
Froome, 28, was born in Kenya to parents of British descent.
He was introduced to cycling by David Kinjah, a professional Kenyan cyclist, and won a cycling medal for Kenya in the 2007 All Africa Games before switching to the UK a year later.
At the age of 14, he moved to South Africa to go to school and also attended university in Johannesburg.
'One of us'
His father Clive Froome still lives in South Africa and told the BBC his son "feels at home" in the UK, Kenya and South Africa.
"He has shared affiliation and affection for all three," he said.
Although cycling is not a massively popular sport in Kenya, some fans gathered to celebrate Froome's victory in the capital, Nairobi, reports the BBC's Emmanuel Igunza from the city.
They sang and danced, with Kinjah joining in the celebrations, our reporter says.
After his victory, Froome said: "I'd like my performances here to help inspire a lot of youngsters, especially young Africans."
"They have to believe they can get out of Africa to make it to European teams."
He took the title by more than four minutes, linking up arms with his team-mates as he crossed the finishing line in Paris.
Mr Froome told the BBC he was "thrilled to bits" by his son's victory
"He's always been a very focused individual. He gives the impression of being fairly quiet and self-evasive, but inside he certainly has a rod of steel," he added.
Kinjah told the BBC he initially thought Froome was "another young kid" from a wealthy family, but then realised that he was a "poor white boy".
"And soon when we started to be friends, I never charged his mother any money because Chris was quickly becoming one of us and he loved to be in the village with us," he said.
"He was like one of us, our brother. He was just funny and happy, a white boy who accepted our village and ate our food."
Froome speaks Swahili, the main language in East Africa.