South Sudan's Salva Kiir sacks cabinet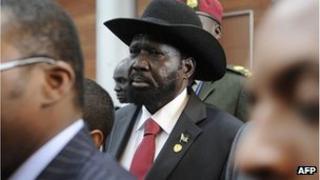 South Sudan's president has sacked his entire cabinet, in an apparent power struggle with other senior leaders.
Salva Kiir issued a decree dismissing all ministers and deputy ministers, as well as Vice-President Riek Machar.
No clear reason was given for the sackings, but analysts say Mr Kiir and Mr Machar have been embroiled in a power struggle for months.
South Sudan has suffered from chronic economic problems since it split from Sudan in 2011.
There was tight security outside ministry buildings on Wednesday, while radio broadcasts urged people to remain calm, the AFP news agency reports.
Its stability has been hampered by lingering rows over territory and oil with its northern neighbour.
Recently some of Mr Kiir's colleagues have hinted at discontent with his leadership.
Local reports say Mr Kiir is battling to maintain control of the Sudan People's Liberation Movement (SPLM), the former rebel group that now runs the country.
Mr Machar, who had been stripped of some of his powers in April, had hinted that he may stand against Mr Kiir for leadership of the SPLM before the next presidential election in 2015.
The BBC's Nyambura Wambugu in the capital, Juba, says there is a real fear that the sacking could further divide the country along ethnic lines.
Mr Kiir is from the Dinka community, which is the largest in South Sudan, while Mr Machar is from the second-largest group, the Nuer, some of whom have complained about Dinka domination.
Financial scandal
Under-secretaries have been put in charge of the departments and the government insists it can function smoothly until new ministers are appointed.
Barnaba Marial Benjamin, who had been information minister until Tuesday, characterised the sackings as a "major reshuffle" and said it was part of Mr Kiir's constitutional mandate.
"Some of these people will come back and some will not," Mr Benjamin AFP.
Among the other leaders to be dismissed was Pagan Amum, the top negotiator in peace talks with Sudan.
He was removed from his post as SPLM secretary general and the decree said he would be investigated for mismanaging the party.
Last month Mr Kiir sacked two other senior ministers embroiled in a multi-million dollar financial scandal, a decision reportedly criticised by Mr Amum.
It was unclear whether Tuesday's decree had any link to the scandal.
South Sudanese journalist Nhial Bol said Mr Kiir had probably acted to end the paralysis in his government.
"Things have not been moving in the government because of this internal fighting over who is going to control the SPLM," Mr Bol told Reuters news agency.
South Sudan is rich in oil, but is one of Africa's least developed countries, with few paved roads and poor health and educational facilities.
It gained independence from Sudan in July 2011 after a decades-long civil war.
However, the oil refineries are on Sudanese territory, so the South relies on its northern neighbour to get its product on to the market.
Both Sudan and the South are reliant on their oil revenues, which account for 98% of South Sudan's budget. But the two countries cannot agree how to divide the oil wealth of the former united state. Some 75% of the oil lies in the South but all the pipelines run north. It is feared that disputes over oil could lead the two neighbours to return to war.
Although they were united for many years, the two Sudans were always very different. The great divide is visible even from space, as this Nasa satellite image shows. The northern states are a blanket of desert, broken only by the fertile Nile corridor. South Sudan is covered by green swathes of grassland, swamps and tropical forest.
Sudan's arid north is mainly home to Arabic-speaking Muslims. But in South Sudan there is no dominant culture. The Dinkas and the Nuers are the largest of more than 200 ethnic groups, each with its own languages and traditional beliefs, alongside Christianity and Islam.
The health inequalities in Sudan are illustrated by infant mortality rates. In South Sudan, one in 10 children die before their first birthday. Whereas in the more developed northern states, such as Gezira and White Nile, half of those children would be expected to survive.
The gulf in water resources between north and south is stark. In Khartoum, River Nile, and Gezira states, two-thirds of people have access to piped drinking water and pit latrines. In the south, boreholes and unprotected wells are the main drinking sources. More than 80% of southerners have no toilet facilities whatsoever.
Throughout the two Sudans, access to primary school education is strongly linked to household earnings. In the poorest parts of the south, less than 1% of children finish primary school. Whereas in the wealthier north, up to 50% of children complete primary level education.
Conflict and poverty are the main causes of food insecurity in both countries. In Sudan, many of the residents of war-affected Darfur and the border states of Blue Nile and South Kordofan, depend on food aid. The UN said about 2.8m people in South Sudan would require food aid in 2013. The northern states tend to be wealthier, more urbanised and less reliant on agriculture.