DR Congo unrest: Fears over UN intervention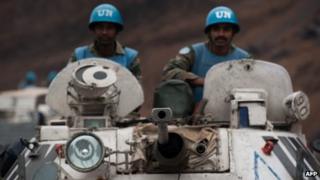 Aid agencies have voiced fears that a possible military offensive by the United Nations in eastern Democratic Republic of Congo could make the humanitarian situation worse and lead to attacks on their workers.
A special 3,000-strong UN "Intervention Brigade" has been mandated to mount offensive operations against rebel groups in DR Congo.
It has already begun some patrols.
The UN says a robust response to the unrest is necessary
US Secretary of State John Kerry is due to chair a UN Security Council debate on DR Congo later on Thursday.
UN dilemma
US-based aid advocacy group Refugees International urged Mr Kerry to recognise that: "Unless certain safeguards are imposed, military action by the Intervention Brigade could further exacerbate DR Congo's humanitarian crisis."
The UN says more than 2.5 million people have been made homeless by the conflicts in the DR Congo - most of them in the eastern provinces of North and South Kivu.
Medical charity Medecins Sans Frontieres earlier said it was very concerned about a blurring of the distinction between the UN's humanitarian and military work.
Because of the potential confusion between those roles, MSF said it no longer wanted any military - including UN soldiers - deployed near its health facilities.
There was a real danger, MSF said, that heightened tension could lead to a targeting of medical activities.
The criticisms by aid agencies illustrate a classic dilemma for the UN.
It is damned if it does not act firmly enough, as when rebels of the ethnic Tutsi-dominated M23 movement took the eastern DR Congo city of Goma last year.
But it is also damned when it takes tougher action that has humanitarian fallout.
The UN operation in DR Congo is already the largest UN military mission in the world. Its main mandate is the protection of civilians.
But the huge number of people made homeless by the many conflicts in DR Congo - mainly in the east but also in Katanga Province in the south and Orientale Province in the north - clearly show that the UN has not always succeeded in shielding people from the worst of the war.
So in March the UN Security Council tried a new tactic and passed a resolution creating the Intervention Brigade.
According to the official UN News Service the Brigade is mandated "to carry out targeted offensive operations, with or without the Congolese national army, against armed groups that threaten peace in eastern DR Congo".
The Brigade is tasked with "neutralising" armed groups, the UN said.
It is commanded by Tanzanian Brigadier General James Mwakibolwa.
"The Intervention Brigade is very positive", he said.
"It should be understood that our first concern should be the protection of civilians as we take on the armed groups."