Nigeria vigilantes in deadly Boko Haram clashes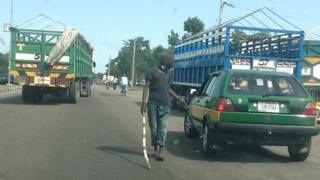 At least 20 villagers in Nigeria have been killed after clashes between a vigilante force and militant Islamists, the army and vigilantes have said.
According to the pro-government vigilantes, they stormed the northern village of Dawashe on Saturday to track down militants who retaliated with heavy firepower, killing civilians.
The Civilian Joint Task Force (CJTF) vigilante group emerged in May.
It has pledged to help the government end Boko Haram's insurgency.
More than 2,000 people have been killed since conflict started in 2009.
The Boko Haram sect says it is fighting to create an Islamic state across Nigeria.
The army sees the CJTF as a proxy militia, and has given its members training, the AFP news agency reports.
Vigilante leader Aliko Musa said 25 people were killed in Dawashe in Borno state - the heartland of Boko Haram - most of them fishermen and traders.
Army spokesman Haruna Mohammed Sani confirmed that 20 people had been killed.
"The suspected sect members came armed and fired sporadic shots that killed over 20 innocent civilians," he said.
Boko Haram has not yet commented.
Nigeria's President Goodluck Jonathan deployed the army to three north-eastern states - Borno, Yobe and Adamawa - after declaring a state of emergency in May.
Boko Haram threatened the unity of Nigeria, he said.