Ghana couple quizzed over 'captive children'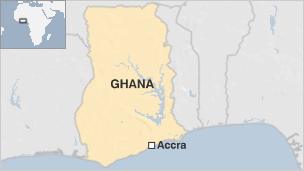 Police in Ghana are questioning a couple accused of keeping their three children, aged between four and eight, locked inside their home since birth.
Police raided their four-bedroom home in the capital, Accra, on Friday, rescuing the one boy and two girls.
The couple had told police they did not want to expose their children to "bad" people, said a police spokeswoman.
The children are being kept in a foster home, amid suspicion that their parents are mentally ill.
The BBC's Sammy Darko in Accra says the case have shocked people in the city.
The boy is eight years old and the girls are aged six and four.
They are said to have been kept secluded at home since birth, and did not know anyone apart from their parents, our correspondent says.
On a visit to the stench-filled house on Monday our reporter noticed that sheep and fowls had lived in one room, the children in two of the other rooms and the parents in the fourth room.
The house looked abandoned, as though it had not been cleaned for years and the walls had been scrawled with graffiti, he says.
Police raided the home after a suspicious neighbour alerted police.
The parents are being interviewed by police and a psychologist at the police headquarters in Accra, while the children are being cared for at a foster home, our correspondent says.
Police spokeswoman Christine Srofenyoh told the BBC the parents had not allowed their children to leave home.
"According to what we got, they don't want their children to be exposed to the public because people out there are bad. They will influence their children negatively," she said.
The children told police their unemployed father taught them English and mathematics at home, as they did not go to school, our reporter says.
Residents are shocked that the family could have lived for so long in such appalling conditions without anyone noticing, he says.