Harare diary: 'Sad and disenfranchised'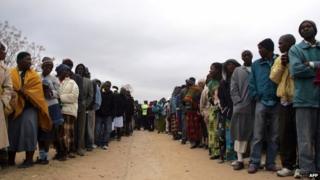 A 33-year-old professional living and working in Zimbabwe's capital, Harare, is writing a diary for the BBC about life in the city during the election period.
In her last entry on polling day, Esther (not her real name) described how life had changed in the country since the 2008 election and the year of economic chaos that followed when people were coping with hyperinflation.
Here she gives her reactions over the past two days to the emerging election results for the two main parties, President Robert Mugabe's Zanu-PF and the Movement of Democratic Change led by Morgan Tsvangirai, who has been serving as prime minister in a power-sharing government.
Thursday 1 August 2013
Day one after the elections and I woke up feeling buoyant. News reports on Wednesday night all indicated voter turnout was high and we've always heard high participation makes the process less vulnerable to abuse.
However, as I write this it is midday and I am feeling deflated. It seems not much has changed.
Rumour has it results will still be handed over to security chiefs before being made public - even though they are pasted outside all polling stations.
I've heard from friends with family in the rural areas - assisted voting took place there.
One colleague whose father is a retired head teacher said he was told to declare himself illiterate; and someone completed his ballot paper "on his behalf".
A million bucks if you can guess for which party!
I am hopping mad - why do election observers concentrate so heavily on the capital? It's the rural areas that are so open to abuse.
So now the process has been declared "free and fair" who is going to go back and investigate these reports?
Will that be done at all?
Friday 2 August 2013
Yesterday afternoon I was feeling deflated, but was praying for some good news.
Today the results are coming in.
The headline in the state-run Herald newspaper is that President Robert Mugabe's party is headed for a landslide. Seeing as this is a Zanu-PF mouthpiece, it is a done deal - our fate is sealed.
Feeling sad, and disenfranchised.
I accept that the president has support, but enough for a landslide?
When I was in a voting queue, I struck up conversations with people. Most of us were there to fix our country.
Surely that does not mean returning to the pre-2008 days?
Besides, not everyone here thinks empowerment means getting a couple of shares in someone's company, or taking over an established business.
Most of us would like empowerment to mean getting access to affordable capital so that we can get our business plans off the ground; coupled with tax breaks and expert support from investment bankers on best practice.
The people in the queue wanted to ensure that we got a government that respects property rights and encourages investment.
So I am crushed really. It looks like we lost, again.
The sad thing is we all know it's highly improbable that we did lose.