Tunisian police kill 'Islamist' in dawn raid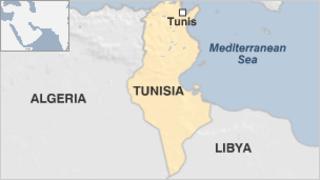 Tunisian police say they have shot a suspected Islamist militant and arrested at least four others in a dawn raid in the capital, Tunis.
The news comes after days of pro and anti-government protests.
Opponents of the ruling Islamist Ennahda party want the government to step down after a second opposition figure was assassinated this year.
But PM Ali Larayedh has rejected calls to resign and appealed for "national unity" in the face of rising extremism.
His government has been facing mass street protests since the 25 July killing of left-wing MP Mohamed Brahmi, the leader of the small left-wing Popular Movement party. In February, prominent secular opposition leader Chokri Belaid was also assassinated.
In addition to the social unrest, there has also been a rise in religious extremism.
Armed forces launched an offensive against Islamist militants near the Algerian border on Friday after suspected al-Qaeda gunmen ambushed and killed eight soldiers.
'No to coups'
The Interior Ministry said Sunday's dawn raid had targeted a house in a southern Tunis suburb, where Islamist militants were allegedly hiding weapons.
One of the suspects died in "exchange of fire", the ministry said in a statement.
Mr Larayedh also announced police had made an arrest in the murder of Chokri Belaid, but he did not provide further details.
The government has blamed Salafist hardliners for both opposition killings, which were reportedly carried out with the same gun.
The prime minister added that Islamist militants hiding near the Algerian border should surrender.
"I call on the terrorists being hunted by security forces to turn themselves in. There is no future in terrorism," the prime minister said on Sunday.
Opposition groups have accused the government of not doing enough to tackle Islamist attacks, and have been holding protests outside the Constituent Assembly in Tunis.
Meanwhile Ennahda allies have also staged mass rallies to defend the ruling party's legitimacy.
On Saturday, thousands of party supporters packed into Kasbah square in central Tunis, chanting "No to coups, yes to elections".
Tunisia is the birthplace of the Arab Spring, but it has been in turmoil since the overthrow of long-serving ruler President Zine al-Abidine Ben Ali in 2011.
But Mr Larayedh has vowed the government will fulfil its mandate and hold elections in December.