South Africa 1999 arms deal inquiry starts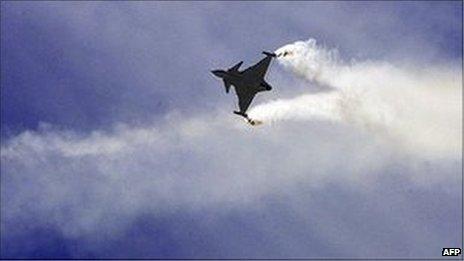 A South African commission of inquiry into a multi-billion dollar arms deal surrounded by corruption allegations has started after a five-month delay.
It was adjourned for two weeks so documents could be declassified.
Allegations of bribery have dogged the governments of both President Jacob Zuma and Thabo Mbeki.
Mr Zuma announced the investigation in 2011. His former financial advisor Schabir Shaik was convicted of corruption over the 1999 deal.
Mr Zuma was also charged but the case was dropped before he took office in 2009.
His supporters have always maintained that he had been the victim of a political smear campaign.
Mr Mbeki is among those expected to be called as a witness.
The BBC's Mohammed Allie in Cape Town says the inquiry's start has been hit by the resignation of three key officials.
One of the three judges Frans Legodi, resigned on Thursday citing "personal reasons".
Earlier, senior investigators Norman Moabi and Kate Painting quit amid allegations that the commission was not being transparent - a charge that has been strenuously denied.
The huge deal - post-apartheid South Africa's largest such transaction - was intended to modernise its national defences through the purchase of fighter jets, submarines, corvettes, helicopters and tanks.
It involved companies from Germany, Italy, Sweden, Britain, France and South Africa.
The initial cost was about $3bn (£2bn) but this has since ballooned to around $7bn.
Corruption allegations swirled around the deal from the start.
Shaik was jailed for 15 years in 2005 for soliciting a bribe from Thint, the local subsidiary of French arms company Thales.
Another official, Tony Yengeni, who was the chairman of parliament's defence committee at the time of the deal and the chief whip of the governing African National Congress, was convicted of fraud in 2003.
He was freed from prison on parole in 2007, after serving five months of a four-year sentence.
His sentence was cut on appeal and further reduced by a general amnesty.
Related Internet Links
The BBC is not responsible for the content of external sites.