Ivory Coast's Laurent Gbagbo son Michel calls for peace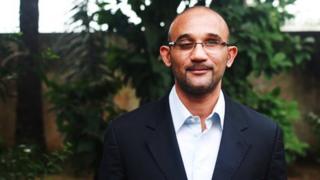 The son of Ivory Coast's ex-President Laurent Gbagbo has told the BBC he wants peace and reconciliation.
Michel Gbagbo, a university lecturer, was arrested along with his father in April 2011 after disputed presidential elections sparked months of violence.
But the 43-year-old, who was freed on bail on Monday, said charges against his family were politically motivated.
His father is currently in The Hague facing charges of crimes against humanity.
Some 3,000 people were killed in violence after Laurent Gbagbo refused to accept defeat in November 2010 elections and was ousted the following year with the help of French and UN forces backing President Alassane Ouattara.
He is the first former head of state to have appeared at the International Criminal Court (ICC) and insists he is innocent.
'Black day'
Michel Gbagbo, who spoke to the BBC's Tamasin Ford at the Gbagbo home in Abidjan, said his father was "very well" and he hoped to be able to speak to him in person.
The Ivorian government granted bail to Michel Gbagbo and 13 other people regarded as supporters of Mr Gbagbo earlier in the week.
He denies charges of taking part in an armed insurrection, attacks on national defence, plotting against state authority, setting up armed groups and rebellion.
Recalling the day of their arrest more than two years' ago, the former president's son said it "was terrible".
"It was a black day - for me, for my family, for Ivory Coast and for the family. It was a very black day. But now it is the past," he told the BBC.
"What I can say now is that I'm a man who wants to work for reconciliation," he said.
"We have to forget the past and let's hope one day the father, Laurent Gbagbo, will come in his country, in Ivory Coast for the peace."
'Positive step'
Michel Gbagbo, who was a senior lecturer in social psychology at the Felix Houphouet-Boigny University in Abidjan, said he had no "hate for anyone".
He said his release on bail was a positive step towards reconciliation, but the government needed to do more - and he wanted all political prisoners to be freed.
Matt Wells from the New-York-based group Human Rights Watch welcomed Monday's release of the prisoners as it was the "general right of defendants to be released pending trial".
"Ivorian authorities should redouble efforts to begin trials for those charged on the Gbagbo side and to complete investigations against perpetrators of serious crimes within the pro-Ouattara forces," he said in a statement.
The group has been critical of the government for so far failing to charge any of Mr Ouattara's supporters over the violence.
Simone Gbagbo, the wife of the former president and Michel Gbagbo's step-mother, is still in detention in Ivory Coast.
Last year, the ICC issued an arrest warrant for her for alleged crimes against humanity.
The Ivorian government has yet to hand her over and there is a possibility she could face charges in Ivory Coast instead, our reporter says.
"The most important is not to know where and if she will be judged but what is good for reconciliation and peace," Michel Gbagbo said.