Freetown's Jimmy Bridge collapses killing several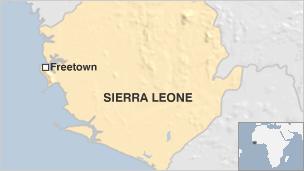 At least seven people have been killed in the Sierra Leone capital, Freetown, when a colonial-era bridge collapsed.
The Jimmy Bridge was one of the main routes in the capital and was heavily used by both pedestrians and vehicles.
The collapse, in the early hours of the morning, comes during the country's rainy season and followed a night of particularly heavy rain.
Rescue workers said the number of casualties could rise as emergency teams search the rubble.
The BBC's Umaru Fofana in Freetown says homeless people often used to sleep under the bridge and may have been buried.
International Red Cross workers told the BBC that seven bodies had been recovered so far.
One witness told the AFP news agency: "There was a slight rumble and then the bridge snapped amidst ... choking brown dust."
Works Minister Alimamy Koroma visited the site and described the collapse as "an unfortunate disaster which will be thoroughly investigated", AFP reports.
President Ernest Bai Koroma is also reported to have been to the scene.
Jimmy Bridge is named after a tribal chief from the 1700s. It was built near the wharf used during the 1800s as the main departure point for ships taking slaves to the Americas.