Ponda Issa Ponda shooting: Tanzania inquiry urged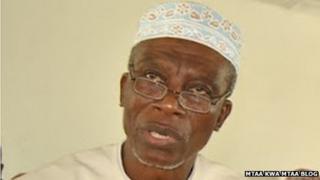 Tanzanian Muslim leaders have called for an independent inquiry into the shooting of controversial cleric Sheikh Ponda Issa Ponda, who was injured while police tried to arrest him.
He is currently under armed guard in Muhimbili National Hospital in the main city, Dar es Salaam.
The police have denied shooting him but say they are investigating.
Mr Ponda was convicted of inciting religious hatred in May and banned from preaching in public.
The BBC's Hassan Mhelela in Tanzania says the shooting is not believed to be directly linked to last week's acid attack on two young British women on the mainly Muslim island of Zanzibar.
The cleric was shot on Saturday in Morogoro, some 200km (125 miles) west of Dar es Salaam on the mainland.
Police spokeswoman Advera Senso said the cleric's supporters started throwing stones after police tried to arrest him.
"As a result, police officers fired shots in the air to warn and disperse the crowds," she said.
Sheikh Alhad Musa Salum from the Tanzania Muslim Council said the Morogoro police chief should resign to ensure that any inquiry is free from interference.
Mr Ponda was given a one-year suspended prison term in May, after his supporters vandalised and torched five churches in Dar es Salaam - one of the worst cases of religious conflict in mainland Tanzania.
The violence followed rumours that a Christian boy had urinated on a Koran.