Nigeria unrest: 'Boko Haram' gunmen kill 44 at mosque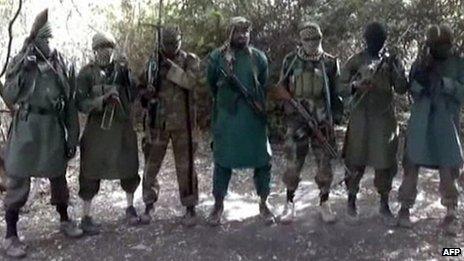 At least 44 worshippers have been shot dead at a mosque in north-eastern Nigeria, officials in Borno state say.
The killings took place during dawn prayers on Sunday, although news only emerged on Monday, as communications are disrupted by a state of emergency.
The attack occurred in the town of Konduga, 35km (22 miles) from the state capital, Maiduguri.
The gunmen are suspected of being from the Islamist group Boko Haram, which has killed thousands since 2009.
Twelve further civilians were killed at Ngom village, closer to Maiduguri, reports say.
A member of a civilian vigilante group told the Associated Press that four of their number were killed when they responded to calls for help in Konduga.
Several such groups have been set up since the emergency was declared in Borno and two neighbouring states in May.
BBC Nigeria correspondent Will Ross says the gunmen may have attacked the mosque in the belief that some of the vigilantes were praying there.
"We believe the attack was not unconnected with the cooperation residents are giving to security operatives in identifying and arresting Boko Haram members in their midst," a senior government official told the AFP news agency.
While the group has frequently attacked churches, it has also occasionally targeted mosques, sometimes those whose preachers disagree with their views.
The attackers wore military uniforms, officials say, which they may have taken during recent attacks on a barracks.
Nigeria's Daily Post reported that a further 26 people were being treated for injuries in hospital in Maiduguri.
After a lull immediately after the emergency was declared, there has been a recent spate of attacks, blamed on Boko Haram.
The military cut mobile phone networks when they imposed the state of emergency, saying they wanted to make it more difficult for the militants to organise attacks.
However, some local officials have said this prevents civilians from getting help.
Boko Haram wants to overthrow the Nigerian government and create an Islamic state in the north.
News of the attacks came as a video emerged of the group's leader, Abubakar Shekau, saying Boko Haram had carried out recent attacks including some that targeted the police and the military.
He said this showed that the army's claims to have inflicted heavy losses on the group were "lies".