Mido Macia: South Africa police bailed in taxi-driver case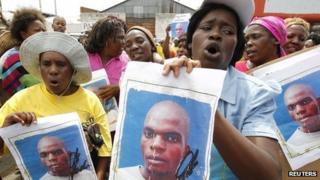 A South African court has freed on bail nine policemen charged with the murder of a Mozambican taxi driver who was dragged behind a police van.
Taxi driver Mido Macia, 27, died after being tied and dragged behind a police van near Johannesburg in February.
The incident, recorded on video by a bystander, caused widespread revulsion.
The officers, who have pleaded not guilty, were initially denied bail in March as a magistrate said they might try to interfere with witnesses.
There was also concern about sending the policemen home in an "unfavourable" climate, a magistrate had said.
On their third attempt to get bail on Tuesday, the magistrate, in the court in the Johannesburg suburb of Benoni, agreed that the circumstances had changed, the South African Press Association reports.
The policemen were granted bail of 5,000 South African rand ($500, £324) on the condition that they do not go to Daveyton, east of Johannesburg, where Mr Macia died.
Their trial is due to start in November.
"The family won't be happy with the outcome but we respect the decision," Sapa quotes Jose Nascimento, a lawyer representing the victim's family and the Mozambican government, as saying.
The video showed Mr Macia struggling with police on 26 February after apparently parking his vehicle illegally in Daveyton.
Police officers then overcame the taxi driver and tied him to the back of a van by his arms before driving off, the footage showed.
Mr Macia later died in police custody, the prosecution alleges.