Mali election: Ibrahim Boubacar Keita victory confirmed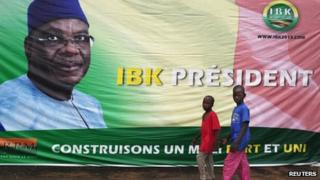 Former Mali Prime Minister Ibrahim Boubacar Keita won Sunday's presidential run-off by a landslide, official results have confirmed.
Mr Keita, Prime Minister from 1994-2000, stood for president in 2002 and 2007. This time he won 78% of the vote.
He is known as "Kankeletegui" or "a man of his word" in the Bambara language.
The election is intended to restore normality after a coup and French-led military action against Islamist and Tuareg rebels.
Mr Keita, widely known by his initials - IBK - advocates a tough approach to rebels in the north, and has promised to root out corruption.
His rival in the second round run-off election, Soumaila Cisse, received 22.4% of the vote.
Mr Cisse conceded defeat earlier this week, but told reporters he would not challenge the result in court "in view of the fragility of the country", AFP news agency reports.
Official figures show 46% of some 6.8 million registered voters cast their ballot on 11 August.
Official confirmation of Mr Keita's victory marks a sharp turnaround in his political fortunes.
In 2007, he lost by a landslide to Amadou Toumani Toure, the president toppled in the March 2012 military coup. Officers overthrew the government a month before elections were due.
At the time, the military accused President Toure's government of not doing enough to crush Tuareg rebel fighters - who had entered into an alliance with Islamist fighters and went on to seize control of the north.
In January, the former colonial power, France, helped Malian forces push back the Islamist insurgents from the northern towns of Timbuktu, Gao and Kidal.
Controversial promotion
It has emerged that Captain Amadou Sanogo, the coup leader, has now been given a new rank of Lieutenant-General.
The promotion has prompted outrage from campaign group Human Rights Watch.
"Sanogo and forces loyal to him have been implicated in extremely serious abuses, including arbitrary detention, enforced disappearances, attacks against journalists and torture," HRW said.
A 12,600-strong United Nations peacekeeping mission in Mali is in the process of deploying, as France begins to pull out its 3,000 troops.