Kenya violence: 'Al-Shabab attack' kills four police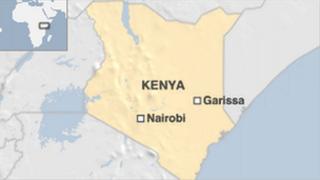 Four Kenyan police officers have been shot dead by suspected Somali militants close to the countries' border near the town of Garissa, officials have said.
About 40 heavily armed men attacked a police post in Garissa late on Friday, the county commissioner said.
The Somali militant group al-Shabab said it had carried out the attack.
Kenya has suffered a series of attacks since its troops moved into southern Somalia to combat the al-Shabab militants in 2011.
County Commissioner Rashid Khattor told Reuters news agency: "Four administration police officers were killed during the attack and we are now preparing to transport their bodies from the scene.
"Our initial assessment points to the attackers being al-Shabab militants who crossed over the border and carried out the hit-and-run attack."
The area around Garissa has seen a series of attacks in recent months. Eight people were killed in a raid in April, and five others in January.