Imprisoned Norwegian Tjostolv Moland dies in DR Congo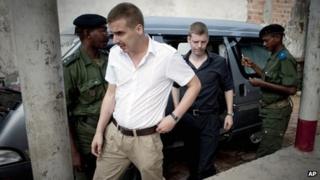 Tjostolv Moland, one of two Norwegian citizens imprisoned in the Democratic Republic of Congo on murder charges since 2009, has died, officials say.
Norwegian Foreign Minister Espen Barth Eide said Mr Moland was found dead in his cell on Sunday morning and that his family had been informed.
Mr Moland and British-Norwegian citizen Joshua French were sentenced to death in 2009 for murdering their driver.
The two former soldiers were also convicted of spying for Norway.
"We have been informed today that Tjostolv Moland is dead. He was found in his prison cell in Kinshasa this morning," Mr Eide told reporters.
The cause of death was not immediately clear, says lawyer Hans Marius Graasvold.
"Conditions have been better now for the past year than they were, because they were transferred a year ago, but still it is a prison in Congo and they have been on death row and it has been hard both physically but also mentally for them," Mr Graasvold told the BBC World Service's Newsday programme.
Mr French, who had been informed of Mr Moland's death, was upset but in good health, he added.
"He's in shock; he has just lost his very good friend, but he is a very sensible person so he is dealing with this as best he can," said Mr Graasvold.
The two men were convicted in the north-eastern city of Kisangani for the murder of their driver, Abedi Kasongo, and attempted murder of a witness. They were also found guilty of spying after military ID cards were found on them.
Both men have maintained their innocence.
The Norwegian government, which denied accusations that they were spies, had previously asked the Congolese authorities to allow both men to serve their sentences in Norway.
After their conviction, both men reportedly wrote to Congolese President Joseph Kabila asking for a pardon or for their death sentence to be commuted to life imprisonment and to be served in Norway.
Mr Moland, 32, worked with the Norwegian military until 2007, at which point he and Mr French started working for private security companies in Africa.
They claimed they were in DR Congo to research setting up their own security company.
They said they had hired Mr Kasongo as a driver after their motorbike broke down but that he was killed when they were ambushed by gunmen in the jungle.
While the verdict was overturned by a high military court in early 2010, a new panel of judges convicted them in a retrial later the same year.
Mr French, 31, was born in Norway to a British father and Norwegian mother, and lived in Margate, Kent, as a child.
He moved back to Norway when his parents divorced, but returned to the UK aged 20 and served in the British Army.
The UK-based legal charity Reprieve has strongly condemned the conviction of the two men.