US sanctions on Zimbabwe to remain after 'flawed' poll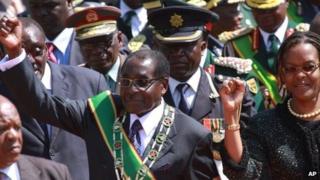 The United States has said it will only lift sanctions on Zimbabwe if there are further political reforms, following disputed elections in July.
Southern African leaders had called for sanctions to be removed after endorsing President Robert Mugabe's re-election.
But US state department spokeswoman Jen Psaki said the poll "did not represent a credible expression of the will of the Zimbabwean people".
Mr Mugabe, 89, is due to be inaugurated for a seventh term on Thursday.
The US first imposed targeted sanctions in 2003. About 120 individuals, including Mr Mugabe and his family, are subject to a travel ban and companies linked to them have been blacklisted from doing business with US companies.
Mr Mugabe won the election on 31 July with 61% of the presidential vote against 34% for Morgan Tsvangirai, the outgoing prime minister and leader of the Movement for Democratic Change (MDC) party.
Last week, the MDC dropped plans to challenge Mr Mugabe's victory in court, alleging it would not get a fair hearing.
It said the poll was marred by widespread fraud, but the African Union has said that any irregularities were not enough to overturn the margin of victory.
'Serious flaws'
At a meeting of the Southern African Development Community (Sadc) over the weekend, Malawi's President Joyce Banda said the West should lift sanctions because "Zimbabweans have suffered enough".
But Ms Psaki said the US stood by its assessment that while the elections were relatively peaceful, they were not a credible expression of voters' opinions "due to serious flaws throughout the electoral process, as highlighted by the regional and domestic monitors".
"We have made clear to the government of Zimbabwe and the region that a change in US sanctions policy will occur only in a context of credible, transparent, peaceful reforms that reflect the will of the Zimbabwean people... if those changes are made, then we'll certainly conduct a review," she said.
Zimbabwe did not invite the US or European Union to monitor the elections, with Mr Mugabe's Zanu-PF party accusing them of bias.
Allies of President Mugabe have dismissed the allegations of voting fraud and accused Mr Tsvangirai of being a bad loser.
Mr Mugabe's victory heralded the end of the power-sharing government he formed with Mr Tsvangirai in 2009 under pressure from regional leaders following elections marred by violence and allegations of rigging.
Mr Mugabe has governed the country, a British colony until 1965, from independence in 1980.