Liberia's police act as predators not protectors, says HRW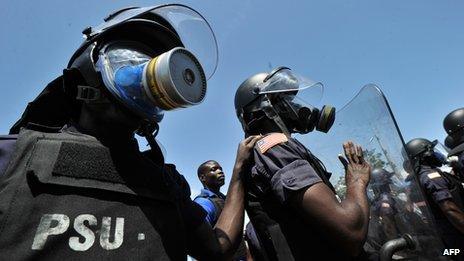 Liberia's police often act as "predators" who rob people of money and goods rather than protecting them, says campaign group Human Rights Watch.
Street vendors and taxi drivers are the main victims of police criminality, its report, No Money, No Justice, says.
Liberia is recovering from a brutal civil war that ended in 2003.
President Ellen Johnson Sirleaf, a Nobel peace laureate, declared corruption "public enemy number one" when she took office in 2006.
The government has not yet commented on the report by the US-based rights group.
Liberia's police and army are expected to take a greater responsibility for security as the United Nations reduces its 18,000-strong force in Liberia to 3,750 by 2015.
In a BBC interview, Human Rights Watch (HRW) researcher Valerie Brender said rampant corruption in the police force was impeding Liberia's development and efforts to promote justice after a 14-year conflict that killed more than 200,000 people.
"The police all too often act as predators on Liberians rather than protectors of their rights engaging in criminal conduct themselves," she said.
"Many Liberians told us that the armed units of the police were very similar to the armed robbers because what the armed units did was the same thing as what the armed robbers did - which is make off with their cell phones, their money, sometimes engaging in brutality in the process."
The report was published following interviews with 120 people and 35 police officers of all ranks.
In one account, a resident of the capital, Monrovia, told HRW that the elite Police Support Unit came to his home, kicked him, held his wife at gunpoint and stole money she had hidden in her bra.
Police behaviour was similar to tactics used by government security forces during the civil war, the report said.
It also reflected frustration within the police force over low salaries and inadequate supplies, it added.
Lower-ranking officers were also forced to pay bribes to their superiors to gain promotions, the report said.
"The brunt of daily police bribery, extortion and theft in Liberia is borne by those in society scrambling near the bottom of the financial ladder to feed themselves and their families," it added.
"These are the street vendors, motorcycle drivers, and taxi drivers living hand-to-mouth whose commercial activities put them in constant contact with police at checkpoints, random stops, and street raids."
HRW said the government should strengthen the Liberia Anti-Corruption Commission and establish a civilian oversight body to keep a check on police conduct.
Related Internet Links
The BBC is not responsible for the content of external sites.