UN protests at 'Rwandan refugee abductions' in Uganda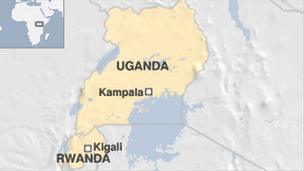 The UN has called for an investigation into the "disappearance or abduction" of three Rwandan refugees, including two ex-presidential guards, from neighbouring Uganda.
Their "disappearance or abduction" raised serious concerns about a culture of impunity, a UN official said.
Rwanda denied it was involved in any illegal activity.
Many critics of Rwanda's President Paul Kagame flee to other countries, accusing him of being authoritarian.
On Wednesday, Uganda's government blocked its police from extraditing a Rwandan ex-presidential guard, Joel Mutabazi, who was a refugee in Uganda.
The police arrested Mr Mutabazi, at the request of Rwanda, which said he was wanted on criminal charges.
Mr Mutabazi was arrested despite the fact that he was under the protection of the United Nations High Commission for Refugees (UNHCR) and lived in a safe house in Uganda since 2011, reports the BBC's Catherine Byaruhanga from the capital, Kampala.
Police released him after the government and UNHCR intervened, our reporter says.
He is now in the custody of Ugandan President Yoweri Museveni's office, she adds.
The UNHCR representative in Kampala, Muhammed Abdi Adar, said Uganda had a duty, under international law, to protect refugees.
"I think the actions that have taken place in the last two weeks in which, to my knowledge, some three refugees were abducted or have disappeared really puts the reputation of this country into question," he told the BBC's Focus on Africa programme.
"My greatest concern is the sense of impunity that refugees, under international protection, could disappear."
Rwanda's ambassador to Uganda, Frank Mugambajye, denied Rwanda had been involved in abductions.
"It's a completely old story. Repeating it will not make it a reality," he said.
Ugandan police spokesman Patrick Onyango said Mr Mutabazi was arrested after the Interpol office in Rwanda said he was wanted for the "offence of armed robbery".
"It should be noted that the Uganda Police Force would not hand over the suspect to any country, without going through legal procedures of deportation or extradition, as the law requires," he said.
Mr Mutabazi was released after Uganda's Minister of State for Disaster Preparedness, Musa Ecweru, wrote an official letter to police, confirming that he had refugee status, Mr Onyango said.
Mr Mutabazi once was a member of Mr Kagame's security team and is one of about eight Rwandan ex-servicemen who had defected to Uganda because of safety concerns, Associated Press news agency reports.
In 2010, Rwanda's ex-army chief Faustin Kayumba Nyamwasa fled to South Africa.
He accused Rwanda of a failed attempt to assassinate him in June of the same year after he was shot and wounded in Johannesburg. Rwanda denied involvement.
The shooting strained diplomatic relations between South Africa and Rwanda.
Related Internet Links
The BBC is not responsible for the content of external sites.