Congo's Gen Dabira arrested in France over 'massacre'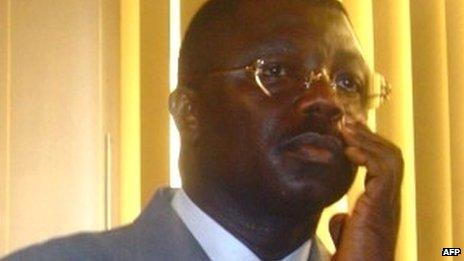 A general from Congo-Brazzaville was briefly arrested in France and has been put under formal investigation for crimes against humanity, officials say.
It relates to the disappearance in 1999 of about 350 refugees who returned to Brazzaville from the neighbouring Democratic Republic of Congo.
Gen Norbert Dabira told AFP he was "totally innocent" and would not leave France during the investigation.
Congolese authorities have always denied the returnees were massacred.
Rights groups and relatives of the missing say they were arrested, tortured and then executed upon their return to Congo on suspicion of backing an anti-government militia.
Gen Dabira was among 15 top army officers cleared of charges relating to the incident in a Congolese court in 2005.
The court acknowledged that 85 people had disappeared, but said it could not explain how this had happened and offered compensation to relatives.
French authorities opened an investigation into the alleged massacre in 2001.
Under French law, a formal investigation means investigating judges determine whether or not there is sufficient evidence to send a suspect for trial.
Gen Dabira, a former army inspector-general, is currently in charge of reintegrating ex-combatants in Congo and holds the rank of minister.
The 64-year-old army officer owns a home in France, according to AFP.
A full-scale civil war broke out in Congo in 1997 between soldiers loyal to President Denis Sassou Nguesso and southern rebels.
Towards the end of 1999 the rebels signed a ceasefire. At one stage in 1999 more than half of the population of the capital, Brazzaville, fled the fighting across the Congo River to DR Congo.