South African girl of seven 'shoots friend dead'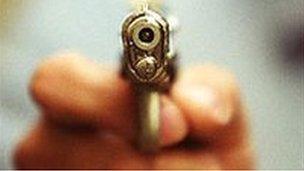 A seven-year-old South African girl has shot dead her friend, aged six, with her grandfather's revolver while playing at a farm, police say.
A murder case has been opened after the dead girl, a daughter of a farm worker, was shot in the face, reports say.
The alleged killer's grandfather has been charged with failure to safeguard a firearm, police added.
South Africa has tight gun ownership regulations but many people still possess firearms.
The debate over gun ownership in South Africa is highly emotive, and sometimes takes racial overtones in a country where divisions between black and white people still run deep, says BBC South Africa analyst Farouk Chothia.
The pro-gun lobby argues that people should be well-armed because of high levels of crime, but critics say this merely escalates the violence.
Police spokeswoman Ronel Otto told the BBC the alleged killer is in the care of her parents, while her 60-year-old grandfather has received bail of $50 (£30) after he was charged in court.
"The seven-year-old was visiting her grandparents on a farm outside Bela-Bela [a small town in South Africa's Limpopo province] when she allegedly shot her friend with a 0.38 revolver," Ms Otto said, AFP news agency reports.
Her grandfather had apparently taken the weapon out of his gun safe on Friday after an attempted robbery, and forgot to put it back, local media reports say.
Community leaders said there was a "great sense of shock" among residents, Ms Otto told the BBC.
Police have opened a murder case but were waiting for clarity from prosecutors on how to proceed because the alleged killer was a minor, AFP reports.
South Africa's 50 million people own an estimated 5.95 million guns, with 3.73 million of them registered.
Related Internet Links
The BBC is not responsible for the content of external sites.