Rwandan Pascal Manirakiza found 'tortured' in Uganda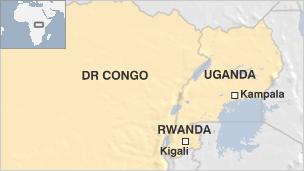 A Rwandan refugee who went missing in Uganda last week has been found tortured and unconscious, a Ugandan official has said.
Pascal Manirakiza's abductors had "dumped" him at a cemetery near the capital, Kampala, the official said.
Mr Manirakiza was one of four Rwandans who told the BBC last month that they were seeking asylum in Uganda.
They accused the Rwandan army of forcibly recruiting them to fight in eastern Democratic Republic of Congo.
The army dismissed their claim, saying they must have made up their stories to get asylum.
Last week, the UN called for an investigation into the "disappearance or abduction" of three Rwandan refugees from Uganda.
Rwanda denied any involvement in the abductions.
Police found Mr Manirakiza, 23, in an unconscious state after he was "dumped" at a cemetery by unknown men, said Douglas Asiimwe, the senior protection officer in the Ugandan prime minister's office.
"He was full of blood... He has torture marks in the back," Mr Asiimwe said.
Mr Manirakiza was being guarded at a hospital where he was receiving treatment, he said.
It was hoped that he would regain consciousness in a few days and that he would be able to shed light on who had abducted him, Mr Asiimwe said.
Last week, another of the refugees about whom the UN had expressed concern, Joel Mutabazi, an ex-Rwandan presidential guard, was placed under the protection of Ugandan President Yoweri Museveni's office.
He had earlier been arrested by Ugandan police on a warrant issued by Rwanda.
The UN strongly protested against his arrest and demanded that Uganda guarantee the safety of refugees.
Uganda's government then rejected a request by Rwanda to extradite him.
One of the refugees is still missing, Mr Asiimwe said.
Mr Manirakiza last month told the BBC he had been a student in Rwanda when he was forcibly recruited to fight with the M23 rebel group in DR Congo.
He managed to flee and sought asylum in Uganda, he said.
The UN and DR Congo government have repeatedly accused Rwanda of backing the M23, an allegation it denies.
In 2010, Rwanda's ex-army chief Faustin Kayumba Nyamwasa fled to South Africa.
He accused Rwanda of a failed attempt to assassinate him later that year, after he was shot and wounded in Johannesburg. Rwanda denied any involvement.
The shooting strained diplomatic relations between South Africa and Rwanda.
Related Internet Links
The BBC is not responsible for the content of external sites.