Liberia university to 'admit' some failed students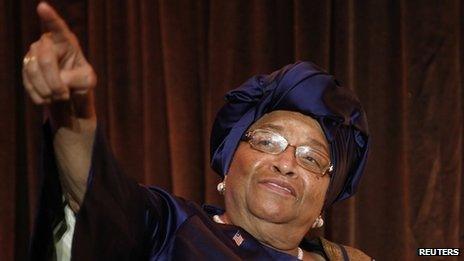 Liberia's main state-run university has agreed to admit 1,800 school-leavers who failed this year's admission exam, President Ellen Johnson Sirleaf says.
Ms Sirleaf told the BBC she had held talks with officials at the University of Liberia over the failure of every single candidate who took the exam.
Nearly 25,000 school leavers failed the test, with officials saying they did not have a basic grasp of English.
Liberia is recovering from a brutal civil war that ended a decade ago.
Ms Sirleaf was awarded the Nobel peace prize in 2011 for her efforts to end the conflict that killed more than 200,000 people and destroyed the West African state's infrastructure.
She told the BBC Focus on Africa programme that the university, one of two state-run universities in Liberia, had set a higher standard for admission this year, leading to the mass failure.
Ms Sirleaf did not say why the university, based in the capital Monrovia, had agreed to admit 1,800 students after discussions with her.
Responding to critics who accuse her of failing to improve education standards since she was elected president in 2005, Ms Sirleaf said: "I'm sorry, they're just dead wrong.... There's no quick fix."
School enrolment had "quadrupled" under her government, she said.
"The second phase now is quality education. That's a more difficult task," Ms Sirleaf told the BBC.
"You've got thousands of teachers in our school system, some of them with only a high school education. You don't turn that over in three or four or five years," she added.
Related Internet Links
The BBC is not responsible for the content of external sites.