Nigeria al-Qaeda suspect to be extradited to US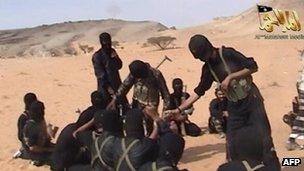 A court in Nigeria has ordered the extradition to the US of a man accused of having links with al-Qaeda and recruiting members to train in Yemen.
Lawal Olaniyi Babafemi, also known as Ayatollah Mustapha, will be extradited within 14 days to stand trial in the US, the court ruled.
Mr Babafemi denies being linked to al-Qaeda in the Arabian Peninsula (AQAP).
Nigeria has been hit by an Islamist insurgency since 2009.
The Boko Haram group has carried out a wave of bombings and assassinations in its campaign to create an Islamic state across Nigeria.
Nigerian and US officials have repeatedly accused it of receiving training from foreign groups.
However, there is no suggestion so far that Mr Babafemi was linked to the insurgency in Nigeria.
Mr Babafemi did not challenge his extradition when he appeared in the High Court in the capital, Abuja.
Court documents alleged that he is an AQAP member who had travelled to Yemen between January 2010 and August 2011 to receive training and to make contact with senior members Anwar al-Awlaqi and Samir Khan.
Al-Awlaqi, a Yemeni-born American cleric, and Khan were subsequently killed in a drone strike.
Mr Babafemi received about $8,600 (£5,500) to "return to Nigeria and recruit English-speaking individuals to work in AQAP's English-language media operation", the documents allege, AFP news agency reports.
He has been charged in the US with conspiracy to provide material support to a foreign terrorist organisation and unlawful use of firearms.
He had been in the custody of Nigeria's intelligence services for two years, his lawyer said.
Mr Babafemi is not the first Nigerian accused of links with AQAP.
Last year, Umar Farouk Abdulmutallab, dubbed the "underwear bomber", was sentenced to life in prison in the US over his failed attempt to blow up an airliner on Christmas Day 2009.