DR Congo unrest: Rwanda condemns 'bombing'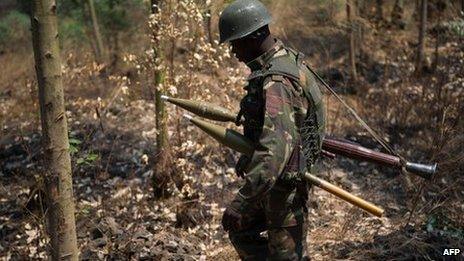 Rwanda has accused government forces in the Democratic Republic of Congo of deliberately shelling its territory, killing a woman and wounding her baby.
Ten bombs fell on Rwandan territory on Thursday and the "provocation can no longer be tolerated", said Foreign Minister Louise Mushikiwabo.
A Congolese army spokesman denied the allegations.
UN and Congolese forces have been pounding M23 rebels on the Congolese side of the border since last week.
DR Congo and the UN accuse Rwanda of backing the M23, a charge it denies.
BBC Great Lakes service editor Ally Yusuf Mugenzi says that even when Rwanda twice invaded Congolese territory during the 1990s, it never made such strong accusations against the Congolese army.
Ms Mushikiwabo said 13 "bombs and rockets" were fired into Rwanda on Wednesday and 10 on Thursday.
This brought to 34 the number of attacks Congolese have carried out on Rwanda in the last month, she said.
The "persistent shelling" was unacceptable, Ms Mushikiwabo added.
"Rwandan civilians are being targeted by DRC forces. We have remained restrained for as long as we can but this provocation can no longer be tolerated," she said.
"We have the capacity to determine who fired at us and will not hesitate to defend our territory."
Congolese army spokesman Col Olivier Hamuli told the BBC that his forces would never fire at civilian populations.
"That could only be rebels," he said, adding that M23 fighters, and not soldiers, were in the area from which the shells were fired.
France is seeking an emergency UN Security Council meeting following the latest upsurge in fighting, reports the AFP news agency.
At least 800,000 people have fled their homes in DR Congo since the M23 launched its rebellion in April 2012.
The UN peacekeeping mission in DR Congo - known by its French initials, Monusco - is fighting alongside government forces.
UN forces have used attack helicopters to push back rebel fighters from positions near Goma.
The UN has deployed a new intervention brigade, made up of some 3,000 troops, to tackle the rebels.
It is the strongest mandate ever given to such a force by the UN Security Council, UN officials say.
South African snipers with the UN force have shot dead six rebel fighters during the latest clashes, a spokesman for the country's military union said, although the defence ministry could not confirm the figures.
On Wednesday, a UN peacekeeper was killed and three others wounded in fighting near eastern DR Congo's main city Goma, just across the border from Rwanda.
A UN spokesman in New York, Farhan Haq, would not give the nationalities of the casualties or supply further details.
Fighting last week reportedly left more than 80 people dead.
Rebels seized Goma in November 2012 but withdrew under diplomatic pressure.
The M23 is made up of deserters from the Congolese army.
They are mostly ethnic Tutsis, like Rwanda's leadership.
Eastern DR Congo has been wracked by conflict since 1994, when Hutu militias fled across the border from Rwanda after carrying out a genocide against Tutsis and moderate Hutus.
Related Internet Links
The BBC is not responsible for the content of external sites.