Central African Republic: Thousands flee into Bangui airport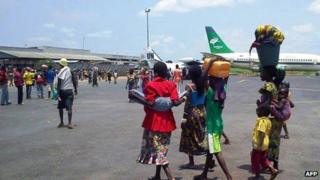 Some 5,000 people have fled ex-rebel fighters in Central African Republic and occupied the main airport in the capital, Bangui, a UN official says.
The former rebels, who seized power in March, were trying to "disarm" residents who lived near the airport, the UN's Amy Martin told the BBC.
Peacekeeping troops were now trying to move them from the airport so it can resume normal operations, she said.
The UN Security Council recently said the CAR threatened regional stability.
Aid agencies have recently warned that undisciplined fighters from the Seleka group which ousted President Francois Bozize had looted the healthcare system, leaving it in ruins.
About a third of the country's 4.6 million people need assistance with food, shelter, health care or water, according to UN humanitarian chief Valerie Amos, who recently visited the country.
Ms Martin, from the UN humanitarian agency (Ocha), said those who had fled their homes were now trapped between the peacekeepers and the Seleka fighters.
"Seleka need to be removed, or leave those neighbourhoods, so people can go back home," she told the BBC's Focus on Africa programme.
The airport is one of the few parts of the capital under the control of a regional peacekeeping force.
Flights are being redirected to Douala, in Cameroon, according to the AP news agency.
CAR has gold and diamond deposits but has been unstable since independence.
Seleka head Michel Djotodia, who was sworn in as president earlier this month, has promised to relinquish power after elections scheduled for 2016.