Senegal President Macky Sall sacks PM Abdou Mbaye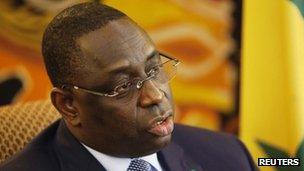 Senegalese President Macky Sall has sacked the prime minister he appointed soon after coming to power last year.
Abdou Mbaye, a former banker who did not belong to any political party, has been replaced by Justice Minister Aminata Toure.
"The president has asked me to form and lead a new government. I have accepted the job," she said.
A statement issued by a spokesman for President Sall gave no reason for Mr Mbaye's dismissal.
In March 2012 election Mr Sall defeated Abdoulaye Wade - who had been president for 12 years - promising to tackle poverty and corruption.
Senegal is seen as a beacon of democracy in West Africa and remains the region's only country never to have had a military coup.
Related Internet Links
The BBC is not responsible for the content of external sites.