Kenya parliament calls urgent debate on ICC membership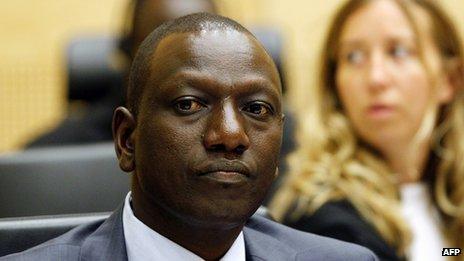 Kenya's parliament has been recalled for an emergency session on Thursday to debate ending membership of the International Criminal Court (ICC).
A resolution supporting Kenya's withdrawal is likely to be passed, making it the first country to do so, a BBC reporter says.
Deputy President William Ruto is due to appear at The Hague next week on charges of crimes against humanity.
The ICC said the case would continue, even if Kenya pulled out.
President Uhuru Kenyatta is due to appear at The Hague in November on charges similar to those faced by Mr Ruto.
Both men deny the charges, which stem from violence that broke out after disputed elections in 2007.
They were on opposite sides of the 2007 election but formed an alliance for elections in March this year and analysts say the ICC prosecutions bolstered their campaign as they portrayed it as foreign interference in Kenya's domestic affairs.
Parliamentary Deputy Speaker Joyce Laboso issued the order for the "special sitting of the assembly" to take place on Thursday.
About 40 MPs said they would support a motion calling for Kenya to end its membership of the ICC, the local Daly Nation newspaper reports.
Kenya's parliament is dominated by the Jubilee coalition, led by Mr Kenyatta and Mr Ruto.
Some MPs hope the motion, expected to be passed, will free Mr Kenyatta and Mr Ruto from the ICC cases, says the BBC's Ruth Nesoba in the capital Nairobi.
However, ICC spokesman Fadi El Abdallah has been quoted by local media as saying that the cases against Kenya's two top leaders and journalist Joshua arap Sang would go ahead even if Kenya withdrew from the Rome Statute that established the ICC.
Mr Abdallah also said it would take at least a year before an application to withdraw from the ICC comes into effect.
Any decision by Kenya to withdraw from the ICC would have immense implications, our reporter says.
No other country has ended its membership of the ICC.
Both Mr Kenyatta and Mr Ruto have repeatedly called for the cases against them to be dropped, saying the charges are politically motivated.
The ICC has refused and says it pursues justice impartially.
In May, the African Union accused the ICC of "hunting" Africans because of their race.
The ICC strongly denies this, saying it is fighting for the rights of the African victims of atrocities.
The ICC was set up in 2002 to deal with genocide, crimes against humanity, war crimes and the crime of aggression.
The court has been ratified by 121 countries, including 34 in Africa.
Related Internet Links
The BBC is not responsible for the content of external sites.