Ghana's dead whales: Oil linked denied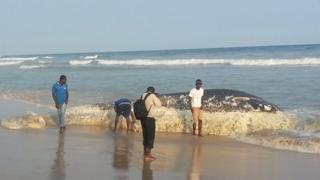 Ghana has dismissed accusations that oil operations could have caused the deaths of several whales washed up on beaches over the past week.
A local environmental group said that the whales had only started to appear since oil production began in 2009.
The Friends of the Nation group called for a full enquiry into the deaths.
Oil firms refused to comment but the Environment Protection Agency said there were no links between the oil industry and the beached whales.
It noted that such incidents occur around the world, not just in Ghana.
The EPA also said it was groundless to say that most dead whales and other marine species were found near oil rigs.
It said it was not clear what had caused the deaths which were a matter "of much concern" to the agency.
A Friends of the Nation statement entitled "Save Our Whales" is being carried prominently on Ghanaian websites.
"Though the death of whales is not an uncommon phenomenon, the frequency within the last four years is worrying," it says.
It says that five dead whales appeared in the past week, taking the total since 2009 to 16.
The BBC's Akwasi Sarpong says that on the beach in Kokrobite, a coastal village just outside Accra, crowds of curious people holding their noses had gathered to catch a glimpse of the dead mammals.
Nearby, chief fisherman Nii Asaase Ayittey supervised as boys from the village dug a deep hole to bury a rotten carcass.
"It is a blessing for us because it will bring our fishermen more fish to catch," he told the BBC .
In the next village of Dampase Langma, fisherman Sammy Tetteh Otchie said he had never seen anything like it before.