South African gold miners return to work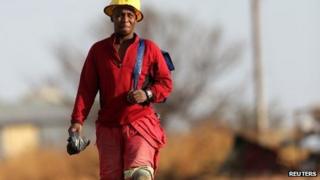 A South African gold miners' strike has ended after workers at Harmony Gold accepted a final wage offer.
Most of the 80,000 miners across the sector who started striking earlier this week had already accepted an 8% pay offer and returned to work.
But workers at Harmony Gold's mines in the central Free State and Northern Cape provinces were holding out for a better deal.
The miners' union had been demanding a 60% rise.
Employers had offered 6% - the same as the inflation rate.
Harmony Gold said its employees had now accepted the pay settlement, the AFP news agency reported.
South Africa's gold industry is one of the biggest in the world.
But it has been in decline in recent years, while the platinum sector is still recovering from violence during last year's strikes.
Power cuts
Mine owners had warned that a long strike could lead to gold mines closing and thousands of jobs being lost, following a fall in the price of gold.
They say that their production costs have increased as they have had to dig ever deeper to extract gold.
For many years, South Africa was by far the world's largest gold producer but it is now the fifth biggest, with just 6% of world production.
However, mining is still the most important sector in South Africa's economy.
The National Union of Mineworkers (NUM) represents about 64% of South Africa's 120,000 gold miners.
South Africans were shocked last year when police shot dead 34 platinum miners during an unofficial strike called by a rival union, which accused the NUM of being too close to the ANC government.
South Africa has already been hit by strikes in the vehicle manufacturing and construction industries.
Some electricity workers have also gone on an unofficial strike, leading to severe power cuts in the biggest city, Johannesburg.
An extra generator has been installed near the home of former President Nelson Mandela, who arrived there on Sunday after almost three months in hospital.
He remains in a critical condition.