Somalia's al-Shabab Twitter account stopped again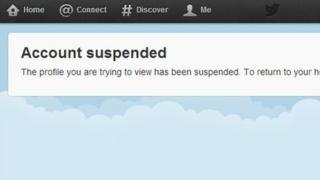 The Twitter account of Somali militant group al-Shabab has been suspended for a second time.
A message from Twitter on the @HSMPress1 account said it had been suspended, without elaborating.
In a statement sent to the AFP news agency, the group denounced the move, calling it "futile".
On Tuesday, the al-Qaeda-linked group used Twitter to claim it had ambushed the convoy of President Hassan Sheikh Mohamud, who was unhurt.
His office played down the incident, saying the president was unharmed as the device exploded some distance away from the convoy.
"Next time, you won't be as lucky," the Islamists tweeted after their attack, AFP reports.
Al-Shabab's Arabic feed is still running.
Twitter has a policy in which accounts can be suspended if users publish threats of violence. They are also blocked if they use Twitter for unlawful purposes or illegal activities.
Al-Shabab's statement said it had no other active Twitter feeds in English and warned users to beware of "parody accounts".
The group's previous English account, @HSMPress, was suspended in January after it was used to threaten to kill Kenyan hostages. It also said it would kill a French hostage and then said it had done so.
Analysts have said that in the past the United States has attempted to close the al-Shabab account, but had lacked the legal means to force Twitter to do so.
They note, however, that there is nothing to stop al-Shabab from setting up a new account.
The pro-government Syrian Electronic Army is using the 16th version of its account after previous ones were closed.
Al-Shabab launched its Twitter account in December 2011, after Kenyan troops went into Somalia to combat it.
It has been driven out of the capital Mogadishu as well as other main towns but still controls many rural parts of southern and central Somalia.
President Mohamud took office a year ago in a UN-backed bid to end two decades of violence.