Tunisia arrests suspected Ansar al-Sharia militants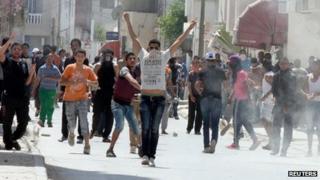 Two suspected members of Tunisia's Ansar al-Sharia militant group have been killed and two more - including the group's deputy leader - have been arrested, officials say.
Mohammed al-Awadi is said to be the group's military commander.
He was detained along with Mohamed Khiari on the outskirts of the capital Tunis, the interior ministry says.
The government recently declared Ansar al-Sharia a terrorist group and accused it of killing secular politicians.
The killings have led to mass protests and calls for the resignation of the Islamist-led government.
The ministry says the two militants were killed in a heavy exchange of fire in the Mornagia district.
The security forces have also been battling militant forces in the remote Mount Chaambi region, along the Algerian border.
Thousands of protesters gathered in Tunis to Saturday to mark the 40th day since opposition MP Mohammed Brahmi was killed.
The moderate Islamist government has blamed Salafist hardliners for the killings of Mr Brahmi and secular opposition leader Chokri Belaid.
The opposition coalition, led by the National Salvation Front (NSF), has accused the government of failing to rein in radical Islamists and improve the faltering economy.