Prince William awards Kenyan and Zimbabwean conservationists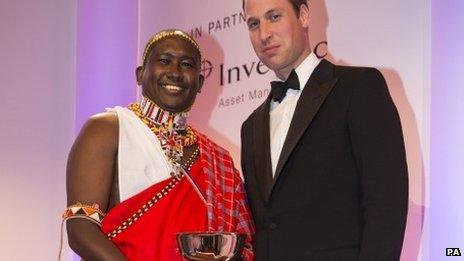 Tom Lalampaa has won a conservation award for his work in northern Kenya by the wildlife charity Tusk Trust.
He was one of five nominees and received his prize from Prince William at an awards ceremony in London.
Mr Lalampaa runs an organisation that helps remote and sometimes feuding communities co-exist with wildlife in a 200,000 sq km (4.9m-acre) area.
Zimbabwe's Clive Stockil was also honoured with a lifetime achievement award for his work with rhinos.
Mr Stockil "is one of Africa's great conservation pioneers, who long before many others recognised how critical it is to engage local communities in the conservation of their natural heritage," one of the Tusk Conservation Awards judges said.
"Despite many setbacks, Clive Stockil has never waivered from his overall commitment to conservation."
His career spans 40 years and in 1992 he helped create Zimbabwe's biggest private reserve in the Save Valley in the the south-east of the country, which is now home to one of the biggest rhino populations in Africa.
The lifetime Prince William Award for Conservation in Africa comes with a £30,000 ($47,000) grant.
'Model community conversation'
Mr Lalampaa is chief operations manager for the Northern Rangelands Trust (NRT), and the judges said he is a "key player in efforts to protect Kenyan wildlife and improve the lives of his people".
Some 212,000 people - many of them nomadic pastoralists - live in territory overseen by the NRT, which it describes as a "breath-taking patchwork of broken valleys, forested mountains, vast plains and arid acacia shrub land".
But droughts, poor soil and few roads, schools and hospitals can make life difficult for its inhabitants.
There has been conflict amongst the 10 ethnic groups in the region over grazing and water for livestock - and cattle raiding, armed banditry and poaching are also issues Mr Lalampaa deals with.
The NRT is an umbrella organisation which was established in 2004 and serves 19 community conservancies, helping them raise funds and giving them training and advice.
"With Tom's help, NRT is now widely recognised as the leading model for community conservation in Kenya - and increasingly across Africa - and has a proven impact on peace, livelihoods and conservation," the Tusk Conservation Awards said.
Conservationist Alasdair Harris was also honoured at the gala evening at the Royal Society in London, receiving a Highly Commended prize for his work with communities along Madagascar's coast.
The research director of Blue Ventures Conservation, his initiatives protect marine biodiversity and safeguard traditional coastal livelihoods, the Tusk Trust said.
Mr Lalampaa received a £15,000 grant and Mr Harris £7,500 to help with their projects.
This is the first year of the Tusk Conservation Awards and the event was the Duke and Duchess of Cambridge's first joint engagement since the birth of their son in July.
Prince William is a patron of the Tusk Trust, which supports 57 field projects in 18 African countries.
Gabon's President Ali Ben Bongo was among the key invited guests, the trust said.
Related Internet Links
The BBC is not responsible for the content of external sites.