Ethiopian lion kills keeper at Addis Ababa zoo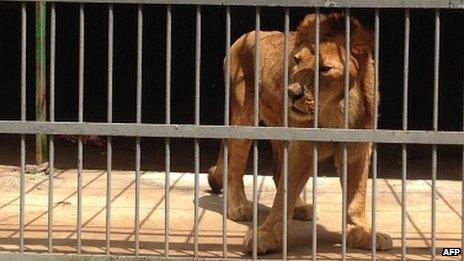 A lion has mauled to death a keeper at a zoo in Ethiopia's capital, Addis Ababa, after he forgot to close the door to the inner cage where the animal sleeps, officials say.
The lion, named Kenenisa after the famous Ethiopian athlete Kenenisa Bekele, bit Abera Silsay, 51, in the neck, they said.
The attack is said to have lasted for 15-20 minutes.
The zoo was opened in 1948 for the pet lions of former emperor Haile Selassie.
The BBC's Emmanuel Igunza reports from Addis Ababa that when he visited the zoo several hours after the Monday morning attack, a shoe belonging to the dead man was still lying on the floor, next to the seven-year-old lion which is still in the zoo.
The zoo was closed to the public.
Officials say about 2,000 people visit it daily.
Guards tried to scare off the lion by firing shots into the air, but to no avail, our reporter says.
Mr Abera was attacked as he was cleaning the lion's cage.
"He entered cage number 10 where Kenenisa lives and he forgot to close the door [to the lion's sleeping chamber]," the zoo's director general Musie Kiflom told AFP news agency.
"Finally, the lion came and he mauled him," he said.
Mr Musie told journalists that police were called to help, but it was "very difficult to save our colleague".
Mr Abera died at the scene, he added.
The zoo is home to 15 endangered Abyssinian Lions, which are found in Ethiopia.
The lions are kept in enclosed cages, but officials plan to move the zoo to a larger, grassier enclosure in the next 13 months.
This is the second time a zookeeper has been killed by a lion at the centre in the past 17 years, AFP reports.
The zoo will increase training for keepers after the attack, Mr Musie said.
"We have to update them on how to protect the animals, how to work with the animals, how to keep them, how to clean them," he said, speaking near the cage where the attack took place, AFP reports.
Related Internet Links
The BBC is not responsible for the content of external sites.