Kenya IT hubs launched for primary schools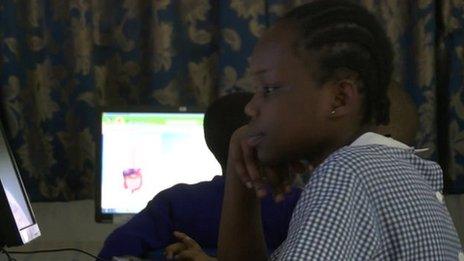 Eighteen digital hubs for Kenyan primary schools, allowing pupils access to computers and the internet, have been officially launched.
Funded by the British council and Microsoft, they are intended to serve more than 100 schools.
The BBC's Frenny Jowi says a hub she visited in Nairobi had 21 computers.
Give the numbers, they seem like a drop in the ocean, but the scheme is a significant step for Kenya's state education sector, she says.
Kenya's 639 state primary schools are often overcrowded, with up to 1,000 pupils at each institution, our reporter says.
The hub at the Kilimani School in the capital, Nairobi, will be serving five schools altogether - and sessions will be timetabled.
But our reporter says it was evident that the pupils at Kilimani were enjoying the computer lab.
"The computers are easier to use and give a lot of information about what you are studying," one 10-year-old boy told the BBC.
Each desktop computer is loaded with Microsoft's Encarta reference encyclopaedia.
The digital hubs now also have full and free internet access following a three-year deal with telecoms giant Bharti Airtel, the British Council said.
They have been built over the last year and during that time, some 2,000 teachers have been trained in IT skills, it said.
Kilimani's headmaster Gideon Wasike said there has already been a positive effect on students since the pilot hub had opened in August 2012.
"It has motivated them and has raised their esteem and their interest in learning," he told the BBC.
"They're able to do a lot of research on their own."
Our correspondent says the hub project - dubbed Badiliko, meaning "change" in kiSwahili - was officially launched at a ceremony at Kilimani school on Wednesday morning.
The scheme has also been launched in eight other sub-Saharan countries, establishing 127 digital hubs in total.
In recent years, Kenya has become a centre for information technology - and the government has launched a project to build a new city by 2033 intended to be an IT business hub called Konza Technology City and nicknamed "Africa's Silicon Savannah".
Our reporter says that while Kenya's many private schools have long had computers for students, the state sector struggles even to provide enough text books.
One of President Uhuru Kenyatta's election pledges this year was to provide pupils starting junior school next year with a free laptop.
But it has proved a controversial plan, with critics saying it is a luxury given that many state schools do not have enough classrooms, teachers and even toilets, our reporter says.
Related Internet Links
The BBC is not responsible for the content of external sites.