Kenya poachers to be named and shamed online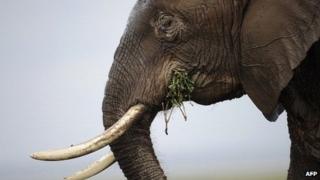 A website to name and shame poachers in Kenya - PoachersExposed.com - has been launched by wildlife campaigners.
Those charged or convicted of links to poaching will be listed, Kenyans United Against Poaching (Kuapo) said.
"This is not just about the poacher who is shooting the bullet but the middle man and the average Joe caught trafficking rhino horn or ivory," Kuapo's Salisha Chandra told the BBC.
It is also hoped the data will reveal trends to help fight poaching.
Meanwhile, a similar project to track corruption in Mali has been launched by the French government, which has given more than 100,000 euros (£84,200; $135,400) in aid to the West African country.
The French Aid to Mali website lists the projects being financed, reports on how they are progressing and allows people to confidentially report concerns or delays via a text message.
PoachersExposed also allows informers confidentiality - and hopes the information will reveal patterns of conviction by region, court and magistrates.
"There are concerns that all along the chain there are issues of evidence not being collected properly, to judges not fully understanding the impact of the crime, to leniency and corruption," Ms Chandra said.
Where available, photos of the accused will be posted on the website alongside details of the court case or charge sheet.
"If people are being publically named this will definitely cause them to think twice about trafficking," Ms Chandra said.
Database
At the moment, the site only lists the case of Moses Njuguna Ndungu, who was found guilty of possession of trophy and dealing in trophy and was sentenced to four years in jail on 7 September.
"It gives communities strength to talk about these people as well. But more than that, we are also building a database of information that we will analyse for trends," Ms Chandra said.
Kuapo was set up in January and has civil society and community groups amongst its members as well as well-known personalities.
There are about 25 active members working for the group around the country.
Website designers put together PoachersExposed for free and Kuapo members are updating the information, which will be verified before posting, in their own time, Ms Chandra said.
Kuapo is also one of the administrators for the crowd-sourcing site RafikiyaWanyamaKenya, which records reported attacks on wildlife.
About 100 elephants are killed each year in Kenya by poachers.
The Kenyan government banned trade in ivory in 1989, and levels of elephant poaching subsequently declined, but there has been a rise in the illegal practice in recent years.
Last month, the Kenya Wildlife Service said 35 rhinos had been killed in Kenya so far this year - compared with a total of 29 in 2012.
There is a huge demand for African ivory in Asia for use in ornaments and conservationists suspect that most of the poached rhino horn is destined for traditional medicine markets in South East Asia, where it is believed to contain powerful healing properties, despite there being no scientific proof of this.