World press warns of wider threat after Kenya attack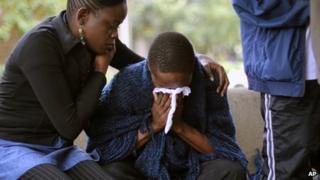 Many newspaper commentators across the world warn of a persistent terror threat in Africa and beyond after the attack on the Westgate shopping centre in Nairobi by suspected al-Shabab militants.
However, a Canadian paper regards the attack as a sign of weakness on the part of the militants.
Striking a defiant tone, one of Kenya's largest newspapers says it would be wrong to give in to al-Shabab's demands.
Africa
Editorial in Kenya's The Standard:
"No self-respecting Kenyan is going to succumb to the terrorists' intimidation. Not now, not ever. Period. One lesson to be drawn from past terrorist incidents from around the world... is that giving in to their demands only emboldens them to stage more spectacular acts leading to more deaths. This is why Kenyans support President Kenyatta's resolve that the country will not withdraw its troops from Somalia as the terrorists demand."
Editorial in Kenya's The People:
"Given that nobody, including the best-equipped systems against terrorism, is completely safe from the attackers, it should not be time to hurl blame and criticism, but every loophole or negligence that made it so easy for terrorists to enter a mall in the middle of a supposedly secure suburb, must be explored and sealed."
Farouk Martins Aresa in South Africa's African Herald Express:
"Most of the developed and socialist countries have succeeded in curtailing nefarious activities of the religious extremists in their environment. Their success unfortunately has driven these devils into African countries. The problem here is that most of the developing countries simply lack the complicated and financial resources to take them on."
Europe
Stanislav Khatuntsev in Russia's Izvestiya:
"Now it is Somalia that is the main stage of fighting against radical 'Islam'. If groups like al-Shabab win there, the region will become the second most important centre of jihadism after the al-Qaeda nest in the border territories of Afghanistan and Pakistan. Then north-east Africa will be lost in endless wars accompanied by bloody massacres."
Francois Sergent in French daily Liberation:
"It remains that this act with its high media profile in the heart of an African capital very much turned towards the outside world... risks strengthening this group by giving it unexpected publicity, and risks closing the region's countries to tourists and travellers frightened by the risk of attacks."
Editorial in Britain's The Daily Telegraph:
"Britain has been one of several Western countries providing the equipment and technical support to help Nairobi wage an effective military campaign against the terrorists in Somalia. The Kenyans, moreover, have acquitted themselves well, helping to drive al-Shabab out of the main cities and disrupting its operations… It is clearly in Britain's interest that we continue to provide the Kenyans with every possible assistance to ensure that they achieve this worthy objective. "
Americas
James Fergusson in The New York Times:
"Many Somalis there live in economically marginal communities and, as elsewhere, some teenagers join criminal street gangs… But if young people are impressionable, their malleability can cut both ways... Given opportunities, support, and acknowledgment that Islam and violence are not synonyms, the vast majority of young diaspora Muslims are likely to reject extremism on their own."
Editorial in Canada's Toronto Star:
"Somalia remains a dangerous, contested place. But the al-Shabab have lost turf, lost revenues and lost direction, with some wanting to fight a wide African regional jihad and others a local war. The group still has several thousand fighters and controls many rural areas. But it hasn't been able to dislodge the new government and has been reducing to suicide bombings and hitting soft targets, hoping to destabilise the new regime and scare off its support. Killing children in a mall is a strategy of desperation, not strength."
Asia-Pacific
Editorial in China's Huanqiu Shibao(Global Times):
"The Western war on terror has set off more terrorist attacks and made them spread like a cancer cell... More utilitarianism and even egoism has emerged in countries in the field of counterterrorism. The selfishness of the West is the main reason why the world cannot form a united front against terrorism."
Editorial in Australia's The Courier-Mail:
"This is a reminder that the al-Qaeda terror franchise is present and dangerous... Whether it is shopping in an African capital which is prosperous, friendly to the West and has a stable democratic system, or watching the finish of an iconic event like the Boston marathon, terror can come swiftly and without notice, leaving death, suffering and horror."
South Asia
Editorial in India's Hindustan Times:
"The terrorist attack on the Westgate Mall in Nairobi, Kenya, is a reminder of how seemingly highly localised militancy can suddenly become an international danger. When it comes to terrorism, no society is an island. Al-Shabab has repeatedly traded blows with neighbouring governments over the past half decade."
Middle East
Anshel Pfeffer in Israel's Ha'aretz:
"The choice of a shopping mall partly owned by Israelis was probably coincidental... But the devastating effect of the attack and the proven long-range capabilities of al-Shabab pose a challenge to the Israeli security establishment - al-Shabab threatens three of Israel's most important African allies: Kenya, Uganda and Ethiopia."
BBC Monitoring reports and analyses news from TV, radio, web and print media around the world. For more reports from BBC Monitoring, click here. You can follow BBC Monitoring on Twitter and Facebook.