South Africa gold miners' joy at silicosis settlement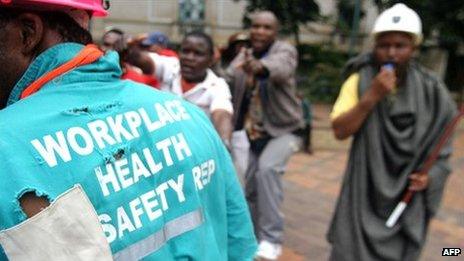 A group of ex-gold miners in South Africa say they are relieved that a health compensation claim against Anglo American South Africa has been settled.
They started the case in 2004, alleging they contracted the lung disease silicosis because of bad ventilation.
The firm settled the matter out of court without an admission of liability.
It is the first silicosis settlement in South Africa and lawyers say it could pave the way for more cases.
The case was brought by 23 miners, 18 of whom had worked at President Steyn mine in the Free State that was run at the time by Anglo America South Africa (AASA).
UK-based Anglo American has now sold off its gold assets in South Africa.
The terms of settlement are confidential but include money payments.
"I'm overjoyed with the result," ex-miner Alpheos Blom told the BBC.
"It will pay for my medical fees, my children school fees and be able to buy my family food so we can survive and live a better life," he said.
The group, which also included miners from Botswana and Lesotho, were represented by UK-based firm Leigh Day, South Africa's Legal Resources Centre and the law firm Mbuyisa Neale.
"The plaintiffs' claim was for silicosis and silico-tuberculosis. Each were claiming for different amounts depending in particular of their nature and severity of disease, lost earnings and medical expenses," Leigh Day's Richard Meeran told the BBC.
The lawyers argue that the high dust levels in mines led to some miners developing silicosis, an incurable lung disease.
Of the claimants, 15 are ex-miners and eight are the widows of former miners, seven of whom lost their husbands shortly after the case began.
Mr Blom said he was "disheartened" that some of his colleagues died before the matter was settled.
The claimants would receive their settlements within the next few weeks, Mr Meeran said.
A number of legal actions associated with silicosis, including a class action suit representing thousands of gold miners, are pending in different courts in South Africa and the Court of Appeal in the UK.
Related Internet Links
The BBC is not responsible for the content of external sites.