Mali Tuareg separatist rebels pull out of peace deal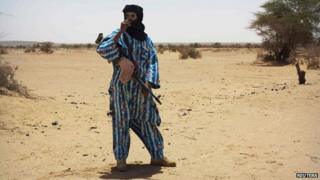 Tuareg separatists in Mali say they are suspending participation in a peace deal, accusing the government of not respecting the accord reached in June.
Three Tuareg groups meeting in Burkina Faso called for an emergency meeting of all parties to the peace agreement.
A ceasefire enabled national elections and allowed Mali's military to return to the northern Tuareg town of Kidal.
President Ibrahim Boubacar Keita wants to stabilise Mali after a French-led offensive pushed Islamist rebels north.
In a statement late Thursday, Mossa Ag Acharatoumane, a founding member of the National Movement for the Liberation of Azawad (MNLA) accused the Malian government of failing to live up to its promises made in the June agreement, signed in the capital of neighbouring Burkina Faso, Ouagadougou.
"Everything that they promised us in the accord has not been respected," he told the Associated Press news agency.
Neither the Malian government nor the UN peacekeeping mission in Mali was immediately available for comment.
Tuareg separatists have said that the government has not yet started prisoner releases in line with the Ouagadougou agreement. But observers say Tuareg fighters have been moving outside their bases in Kidal.
The deal had stipulated that the separatists would garrison their fighters.
A Tuareg rebellion in 2012 made considerable territorial gains. It led to heavy soldier casualties and stoked discontent within the Malian military.
The tensions triggered a military coup in the Malian capital, Bamako. Then authorities faced an Islamist rebellion which was fought back with French-led military intervention.