Charles Ble Goude: ICC warrant for Ivorian ex-minister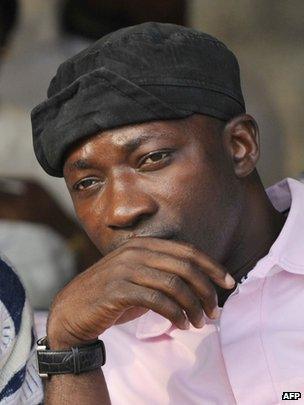 The International Criminal Court has made public an arrest warrant for Ivorian ex-minister Charles Ble Goude over war crimes allegations.
He is wanted by the ICC for alleged crimes against humanity during violence which erupted following disputed elections in Ivory Coast in 2010.
Some 3,000 people lost their lives in the crisis after ex-President Laurent Gbagbo refused to accept defeat.
Mr Ble Goude has denied leading pro-Gbagbo militias in violent attacks.
The arrest warrant, issued in December 2011 but only now made public, describes Mr Ble Goude as a member of Mr Gbagbo's "inner circle".
The ICC said the 40-year-old, currently detained in Ivory Coast, is suspected of murder, rape, persecution and other inhuman acts committed between December 2010 and April 2011.
Judges in The Hague said that forces loyal to former President Gbagbo targeted civilians who backed his opponent, Ivory Coast's current President Alassane Ouattara.
Mr Ble Goude spent more than 18 months in hiding following the violence. He was arrested in January 2013 in Ghana and extradited to Ivory Coast, where he also faces war crimes charges.
Last year, Mr Ble Goude told the BBC that, as head of the Young Patriots group, he had only organised rallies and meetings and never run a militia.
"I am not chief of militia - I've never bought weapons, we went to the streets against those who had weapons, we were bare-handed," he said.
Mr Ble Goude, who was put under UN sanctions in 2006 for allegedly inciting attacks against UN personnel, said he was ready to go the ICC to clear his name.
Mr Gbagbo, 67, was arrested in 2011 and is awaiting trial at The Hague on four charges of crimes against humanity relating to the election violence.
The former president's wife, Simone Gbagbo, has also been indicted by the ICC but Ivory Coast ministers have voted to dismiss the ICC warrant and try her in the country's own courts.
Related Internet Links
The BBC is not responsible for the content of external sites.