Kenya's mobile phone chiefs questioned by police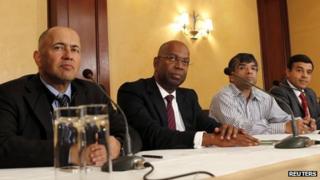 Kenyan police have questioned the bosses of four mobile phone companies over their firms' registration of activated mobile phone lines.
It followed reports that unregistered mobile phones were used by militant Islamists who attacked the Westgate shopping mall in the capital, Nairobi, two weeks ago.
The four were threatened with arrest on Monday after officials accused them of selling unregistered SIM cards.
They denied the allegation.
In 2010, Kenya made it mandatory for all SIM cards to be registered, a move intended to reduce crime and attacks by militant groups.
'Police swoops'
At least 67 people were killed and 175 others wounded in the Westgate attack, carried out by the al-Qaeda-linked al-Shabab group.
In a joint statement, the chief executive officers of Kenya's four top mobile phone companies - Safaricom, Bharti Airtel, Orange Kenya and Yu Essar - said they had given statements to police after reporting to police stations.
They denied there are active SIM cards which are unregistered, and said their companies adhere to international security standards.
But in a BBC interview, Kenya's communications chief Francis Wangusi said police had evidence to the contrary.
"The denial can be there but the fact is that unregistered SIM cards are still on their networks and police have proven that," he told the BBC's Focus on Africa radio programme.
Police had carried out swoops in Nairobi on Monday and Tuesday which showed that "quite a few SIM cards bought in the streets were activated there and then," Mr Wangusi added.
There were 29 million registered SIM cards and 1.6 million unregistered ones, he said.
Safaricom, whose chief executive officer is Bob Collymore, is the largest mobile phone operator in Kenya.