Mozambique expels Portuguese coach Miranda over insult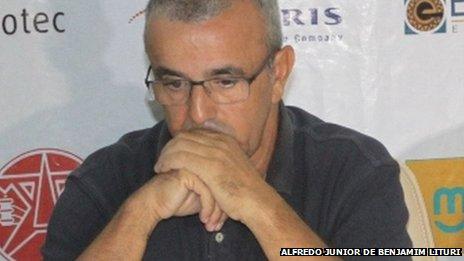 Mozambique's Labour Minister Helena Taipo has expelled a Portuguese football coach for insulting the country, a former colony of Portugal.
Diamantino Miranda, the coach of the Costa do Sol club in the capital, Maputo, must leave by Saturday.
Last month, he was recorded saying that Mozambicans were "a bunch of thieves" after he disputed a refereeing decision.
He has apologised and cried at a press conference announcing his expulsion.
The coach said he did not realise at first when making the comments that he was talking to a journalist - and that his words had been recorded.
In an emotional speech at a press conference called by Costa do Sol, one of the country's biggest teams, he said that he held the Mozambican people close to his heart.
"I hope that the truth will be restored and that one day I will return to Mozambique," Portugal's Publico newspaper quoted him as saying.
Mr Miranda's remarks were made after Costa do Sol lost 1-2 to Vilanculos last month.
"All here are thieves. You are all a bunch of thieves, you and other journalists can be bought off with a bowl of soup. This country is not serious," he was recorded as saying.
Costa do Sol's management said they disagreed with the expulsion and felt it unfair.
The club received Ms Taipo's expulsion letter on Thursday, which gave Mr Miranda 48 hours to leave the country.
Her letter said he showed "a lack of respect, civility and consideration of the values enshrined in the constitution of the republic as well as legislation in force in our country", Mozambique's O Pais newspaper reports.
Some 250,000 Portuguese left Mozambique after independence in 1975, but many are now seeking employment opportunities in the former colony, which has one of the world's fastest-growing economies, in contrast to Portugal.
Related Internet Links
The BBC is not responsible for the content of external sites.