Mobutu Sese Seko's body to return to Congo, says Kabila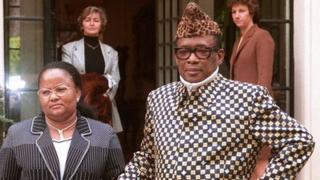 The Democratic Republic of Congo's government will repatriate the body of ex-ruler Mobutu Sese Seko in agreement with his family, President Joseph Kabila has said.
Mr Mobutu is buried in Morocco, where he died in 1997 after being overthrown in a rebellion by Mr Kabila's father.
He was a hated figure among many Congolese, but the country has been hit by instability since he was ousted.
Mr Kabila's gesture is seen as an attempt to promote reconciliation.
Mr Kabila won disputed elections in 2007 and is battling a rebellion in the east of the country.
Allied sons
The president's made the announcement in a rare parliamentary address in which he pledged to create a new unity government.
"This government will include members of the ruling majority as well as the opposition and civil society," he said.
BBC Africa analyst Ibrahima Diane says Mr Kabila is likely to have consulted Mr Mobutu's son, Nzanga Mobutu, before announcing that the ex-ruler will be reburied in DR Congo.
Mobutu Sese Seko is still fondly remembered by his supporters who believe one of his achievements was to keep the vast country united, he says.
Nzanga Mobutu is an MP who is now an ally of Mr Kabila, he adds.
Mobutu Sese Seko fled DR Congo as rebels, led by Mr Kabila's father Laurent Kabila, advanced on the capital, Kinshasa, in 1997.
His critics accused him of being a ruthless and corrupt ruler who crushed internal dissent and plundered DR Congo's mineral resources.
He had also spent millions of dollars on a palace for himself in Gbadolite, deep in the rain forest, which was ransacked after he fled DR Congo.
Mr Mobutu came to power in a coup and ruled DR Congo, which he named Zaire, for more than 30 years.
He died at the age of 66, just months after he was exiled.