South Africa in bid to end politicians' 'high lifestyle'
By Buntu Williams
BBC News, Johannesburg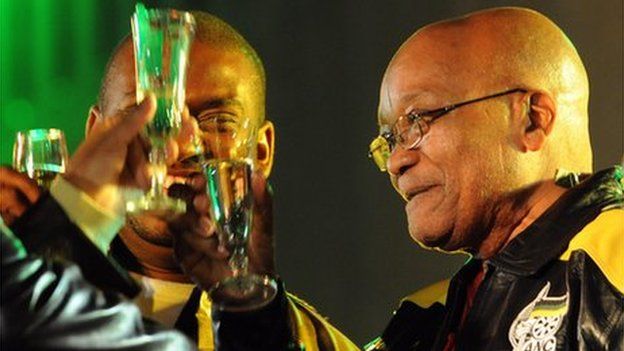 South Africans have applauded tough new measures announced by Finance Minister Pravin Gordhan to curb government spending on alcohol and air travel, as well as the alleged abuse of credit cards, in an attempt to cut costs.
The move came as the African National Congress (ANC) government, in power since white-minority rule ended in 1994, tries to improve its image ahead of next year's election.
Though the party is almost certain to be re-elected, its 66% majority is likely to fall amid allegations of failing to do enough to improve the lives of poor people, widespread corruption and abuse of taxpayers' money.
South Africans have been overwhelmed with media reports of free spending and high-rolling ministers over the years.
One recent example is Northern Cape's new provincial government premier Sylvia Lucas who came in for strong criticism for spending around $5,000 (£3,000) on fast food purchases on a government credit card during her first 10 weeks in office.
In his last cabinet reshuffle, President Jacob Zuma fired Communications Minister Dina Pule following allegations that she had allowed her boyfriend to travel with her at the state's expense.
Some government ministers have also been embroiled in allegations of rigging tenders in favour of friends.
Others have been accused of indulging themselves with cars costing more than $100,000, expensive tastes in wine and five-star accommodation and travel around the world.
Delivering his Medium Term Budget Policy Speech in parliament on Wednesday, Mr Gordhan read the riot act to big-spending ministers and public officials.
He trimmed the fat on travel perks, blew the bubbles out of excessive alcohol and banned the use of credit cards.
From 1 December, no alcohol will be served at government functions and spending on an event should not exceed $200, he said.
Also, government ministers and officials will have to fly economy class - no more first or business class - and in fewer numbers and frequency, Mr Gordhan said.
The main parliamentary opposition, the Democratic Alliance (DA), said it welcomed the austerity measures against wasteful spending, but said this should have long been the norm.
Pieter Mulder, the leader of the small opposition Freedom Front Plus party, agreed.
"There's not enough money any more. Now he [Gordhan] comes with all these government discipline measures, which I really think should have been done 20 years ago," he is quoting as saying.
Nevertheless, the speech was typical Gordhan, decisive and engaging.
He spoke of strong revenue collection, savings of about $80m from under-spending ministries, and a lower than forecast budget deficit of 4.2% which helped allay market fears and bolster sentiment among credit rating agencies.
Annabel Bishop, an economist at private firm Investec, said she expected the budget to satisfy the capital markets and impress ratings agencies.
"We believe... [the] budget outcome is not likely, in isolation, to prompt any of the rating agencies to downgrade SA's rating," she said.
But there were some sad reflections on the year to date.
Industrial action in the last year and, in particular a long drawn out two-month strike in the automotive sector, exerted a heavy toll on the economy.
Projected GDP growth fell from 2.7% to an anaemic 2.1%.
Opposition Inkatha Freedom Party (IFP) leader Mangosuthu Buthelezi believes the announcements were nothing more than smoke and mirrors for the benefit of investor confidence.
"I think he did just enough to get the credit rating agencies off our back. I think he's sending a very strong signal with regard to cutting ministers' expenses. It's small money in the overall budget but it's sending a strong message," he said.
DA spokesman Tim Harris said the mini budget was not nearly bold enough in tackling serious economic problems - or what the treasury calls "labour disputes, electricity shortages and other supply-side disruptions" in Africa's biggest economy.
Nevertheless, the hope among many South Africans is that Mr Gordhan has guaranteed economic stability and boosted confidence in South Africa's future.
Related Internet Links
The BBC is not responsible for the content of external sites.