Somali police force radio station off air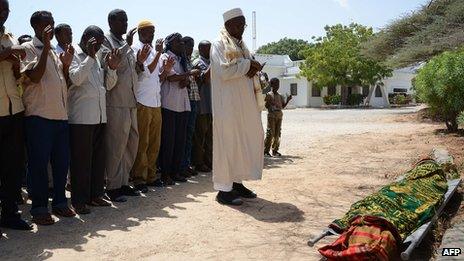 Police in Somalia have stormed the Mogadishu headquarters of the independent radio station, Shabelle, forcing it off the air.
The authorities said they were taking back possession of the building, which belonged to the government.
The radio station is well known for being critical of senior officials.
The move is the latest in a series of attacks on independent journalists by the government and the Islamist group, al-Shabab, media activists say.
The station had previously been ordered to leave the building.
Radio Shabelle reported on its website that police forced their way into the studio and beat journalists.
Witnesses told the AFP news agency that radio employees were seen being loaded into trucks.
A police officer said that the raid had "nothing to do with Radio Shabelle's current activities", the agency reported.
The Somali interior ministry says that the building housing Radio Shabelle was previously occupied by the national airline, and so should revert to the government.
Radio Shabelle says it was occupying the building, which is near Mogadishu's airport and in a secure area, legally after an agreement with the previous government.
The Reporters Without Borders organisation, which campaigns for freedom of information and helps journalists, says journalists working in Somalia face "extreme dangers".
Eighteen journalists were killed in Somalia in 2012 alone, the organisation says, and 10 Radio Shabelle journalists have been murdered since 2007.
Reporters Without Borders gave its annual international press freedom award to Radio Shabelle in 2010.
Related Internet Links
The BBC is not responsible for the content of external sites.