Tokyo Sexwale: ANC demands US terrorist list apology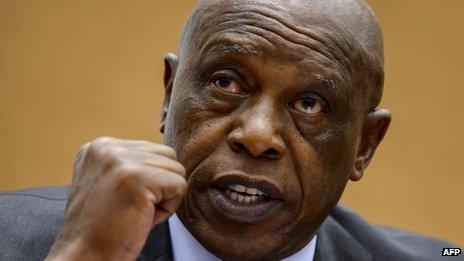 South Africa's governing African National Congress (ANC) has demanded an apology after senior official Tokyo Sexwale was held at a US airport because he is on a terrorist watchlist.
His detention at the JFK international airport was "an affront to the global anti-apartheid movement", the ANC said.
Former ANC leader Nelson Mandela was only taken off the list by former President George W Bush in 2008.
Mr Sexwale was imprisoned along with Mr Mandela on Robben Island.
He is also a senior official with Fifa, football's world governing body.
South African lawyer Bally Chuene who travelled to the US with Mr Sexwale, told the BBC's Focus on Africa radio programme that the former anti-apartheid activist had been "humiliated" by an immigration official.
The official refused to give Mr Sexwale a chance to explain himself or to make a telephone call, Mr Chuene said.
"[The official] basically said: 'We are ordering you to sit down, failing which we are going to arrest you.' He said: 'Well, I need to have a lawyer.' They said: 'You're not allowed to have a lawyer,'" Mr Chuene added.
Another of Mr Sexwale's lawyers, Leslie Makhabela, told South Africa media that US immigration officials had "alleged he posed a threat to international security".
Both the ANC and the South African government have called on the US to remove from the Terrorist Watchlist those people who were put there for their role in the fight against white minority rule.
"This affront on the rights and dignity of Comrade Tokyo Sexwale necessitates an unconditional apology to him and the people of South Africa from the US administration," said the ANC.
Wits University vice-chancellor and political analyst Adam Habib said it was unacceptable that the former housing minister is still considered a terrorist by the US and called on the South African government to intervene to have all the names removed.
Related Internet Links
The BBC is not responsible for the content of external sites.